6 DIY gift ideas to have a more conscious Christmas
Words by Alice Florence Orr
Five Minute Read
Last-minute gifts that won't hurt the planet
What does that festive feeling mean to you? Seeing family. Long winter walks. Or maybe exchanging presents. Whatever this time of year means to you, remember that giving doesn't need to hurt the planet — or your wallet.
If the holiday season is starting to seem complicated and superficial, you'll love our tips for meaningful ways to recapture the festive magic. These inexpensive and sustainable ideas are perfect for reconnecting with nature, getting crafty and give something truly personal to your loved ones.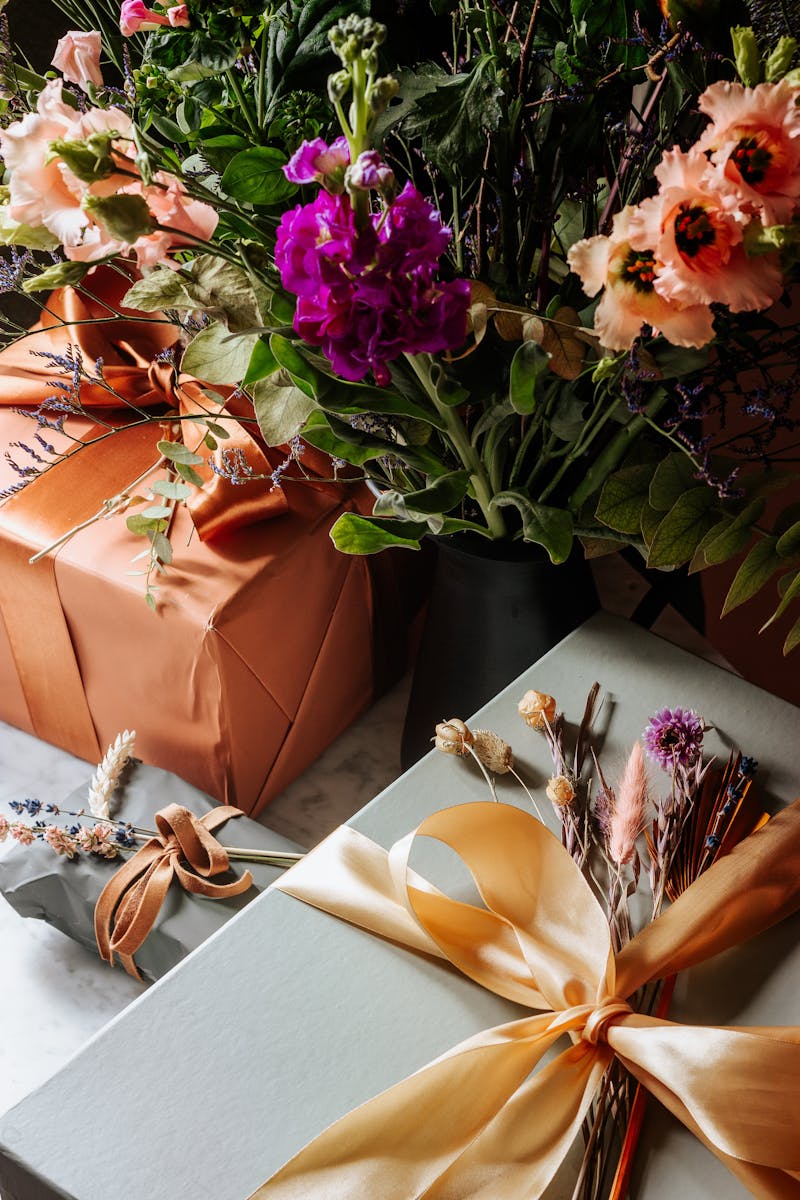 Gather seasonal flowers for an easy way to embrace the outdoors
01. Plant Power
Bring the spirit of the season indoors by foraging for dried flowers, holly branches, cones and conifer foliage to give your home that festive feel. By finding free greenage in your area, you not only save money on decorations but capture the essence of your local environment, bringing the outdoors into your home. Dried flowers also make a wonderful gift, especially when paired with a striking vase. Go thrifting for a vintage piece or try this Gardenia Vase by BD Barcelona Design.
02. It's a Wrap
Make the switch from paper wrapping to recyclable or cloth alternatives. The Japanese have been perfecting the art of Furoshiki — wrapping and transporting goods or gifts in squares of cloth — for generations. With plenty of tutorials to follow online, you're only a few steps away from re-purposing old linens into a gift wrap they'll never forget. Goodbye sticky tape, hello linen.
03. Put a Wreath On It
Making your own festive wreath is easier than you'd expect. Braid together what you find outdoors into a Christmas wreath using a circular wire frame available in any DIY shop. Add little touches like fir or eucalyptus for a fragrant alternative to candles and use a recycled ribbon from old presents to add a touch of colour.
04. Join the Scrub Club
We all love a good scrub in the shower for soft holiday skin. A tub of scented luxury makes a wonderful gift, but why pay when you can make your own? Combine melted coconut oil and used coffee grounds at a 1:2 ratio, and add your favourite essential oil. Try orange or peppermint to keep with the festive theme. Place in a glass jar to cool and pass it on to a friend. Alternatively, try making a mini sugar lip scrub using the same method and brown sugar, the most gentle type.
05. The One With the Jar
We all know that crackers are a waste of paper, but there's nothing like sharing a joke around the Christmas table. Solution? Start a joke jar. Ask friends and family to send you their favourite jokes and write them out on bits of paper. Fill a glass jar with the gags — we recommend 20-30 jokes — and place it on the dinner table. The best part is you can keep them safe for next year while adding to the jar as time goes on. Soon, you'll have hundreds of jokes to choose from. A fantastic heirloom to pass on to future generations with a sense of humour.
06. Sowing the Seed
If your friend has a garden, there's no better idea than giving them a gift that will grow year after year: seeds. Of course, you can buy themed seed packs already made, but we recommend making your own unique combination with a variety from the garden centre. Pick them based on your friend's favourite colours, shapes and how much light their garden gets. Place the seeds in a box or jar and wrap with ribbon — in the spring, they will be able to sprinkle them through their flower beds or potting area. There's nothing more sustainable than that!
Discover our conscious and sustainable gifts