The ultimate guide to choosing your perfect armchair
Words by Alice Florence Orr
Five Minute Read
How do I pick an armchair that suits my style?
Armchairs have always been at the hearts of our houses. They make a room feel welcoming, giving any space a touch of character while being undeniably functional. Your home is uniquely yours, so don't settle for any hand-me-down armchair. Instead, choose one that's perfectly curated to your space, needs and taste.
So snuggle up and read our guide to picking the perfect piece — it's as easy as three steps: fabric, style and colour.
01. Fabric
Velvet
Nothing says luxury quite like velvet. Long associated with elegant living, a velvet fabric suits jewel tones and looks at home in period interiors. With a dense pile and soft touch, it's the perfect fabric choice to elevate a darker space.
Wool
Well-made woollen fabric really rhymes with quality. It's a material that suits most interiors, whether you like contemporary living or something more traditional. By changing up the colour and shape, you can make this universally loved fabric your own. Try a statement chair from Coedition. Not only does it have sink-into-it levels of comfortable, the stunning You Armchair comes in two dynamic colours.
Bouclé
Known as the fabric of the moment, bouclé is irresistible. The style of material is made using woollen yarn with a looped or curled ply, giving it a curly appearance not unlike your childhood teddy bear. Choose bouclé for a trendy design statement that will add a pop to neutral spaces.
Canvas
You might think canvas is an unusual fabric choice for furniture, but Scandi design brands like WeDoWood have revived this sustainable material for modern-day living. Often paired with ethical materials such as bamboo, canvas brings a minimalist look to any room. Did we mention it's surprisingly comfortable? Pair with other neutral pieces for a calm, laid-back vibe.
Leather
If you want to turn heads, leather is for you. Sensual and long-lasting, it's time to forget everything you expect from leather armchairs. To make a real statement, choose an uber-contemporary shape like the Grasso Armchair from BD Barcelona Design. Leather wears well over time, making it a great investment that will never go out of style.
Linen
Linen is a classic, easy to clean fabric that's perfect for a family home. Not only is it durable, but it has many sustainable options. Off-white linen is perfect for a rustic, country home. It also looks great in a sophisticated grey like the Model 01 by Swyft, ideal for a traditional office environment.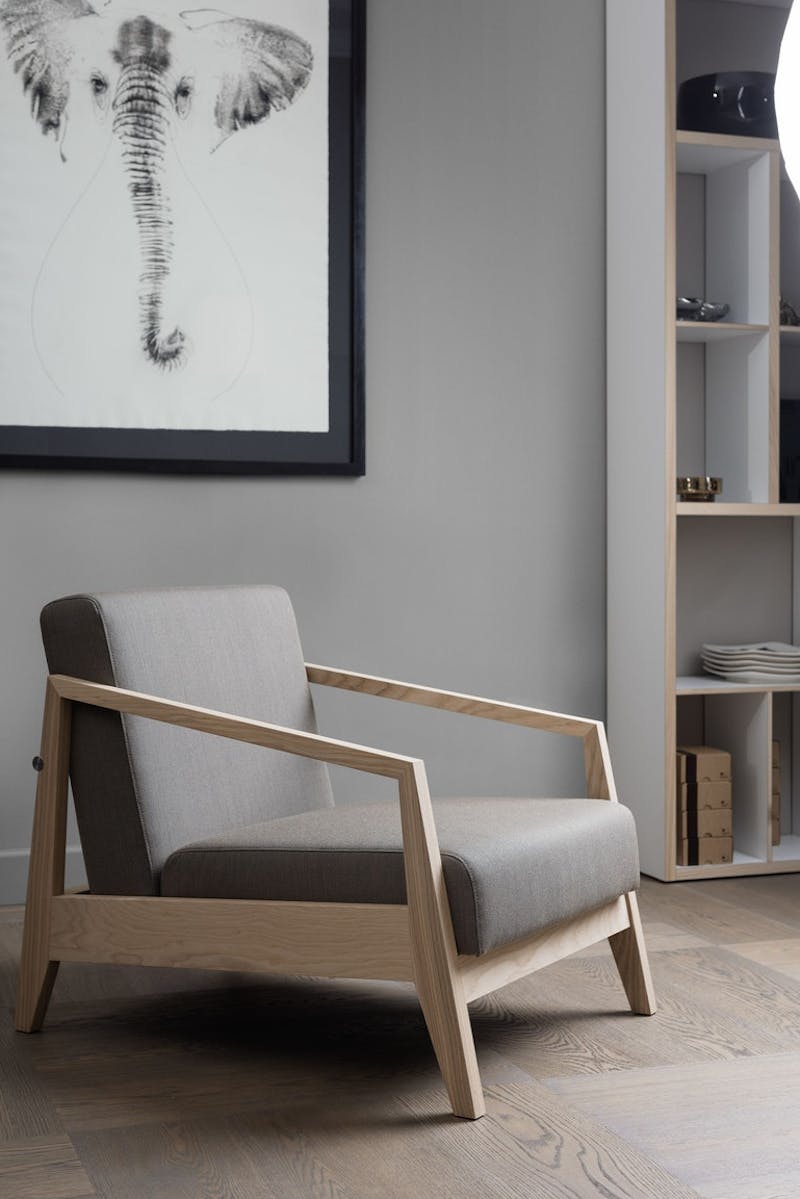 The

Grey Wood Comfy Armchair

by MINT Furniture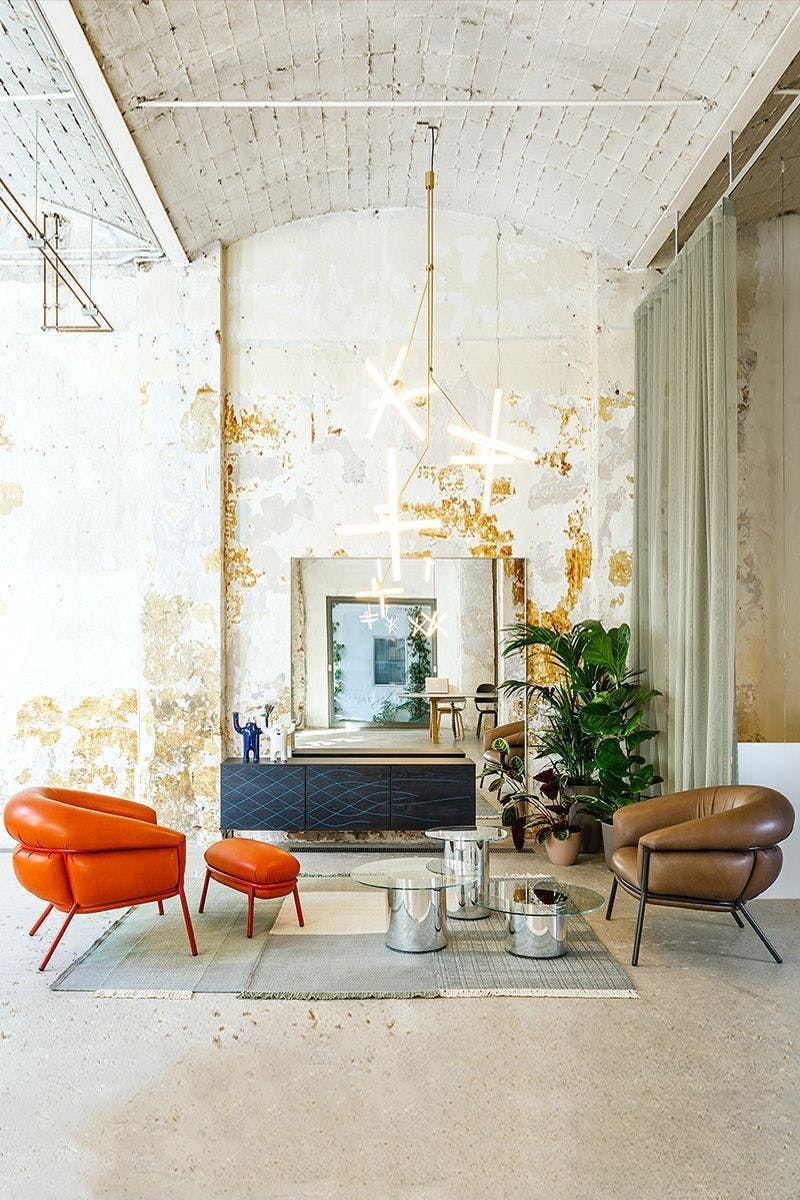 The

Cognac Leather Grasso Armchair

by BD Barcelona Design
02. Style
Traditional
With plush upholstery, wooden legs and elegant lines, there's nothing quite like a traditional armchair. This classic design is ideal for a traditional or country home, but in the right colour palette, a traditional armchair will transcend trends to become a piece that suits most spaces.
Contemporary
Contemporary is a hard style to define, but it encapsulates styles that range from minimalist and functional to the truly Avante Garde. Think organic shapes, innovative design and unexpected textures, exemplified by the Off White Dalya Armchair by Coedition. Made of solid ash wood and New Zealand wool, look no further for proof that comfort needn't sacrifice style.
Rocking
This classic chair design is no longer the preserve of Prarie houses or your grandmother's spare room. A new generation of rocking chairs have arrived, harmonising tradition and modern design trends, and these eye-catching chairs are the perfect touch to elevate a nursery, playroom or study.
Mid-century
Who can resist the resurgence of classic mid-century modern design? Characterised by teak wood finishes, bold graphic shapes and smooth lines, mid-century looks at home in most spaces. Brands like Sternzeit are reimagining this sought-after design era for contemporary living, and their German-made armchairs are the perfect addition to most living rooms.
03. Colour
Neutral
Coming home to your bright, neutral room can make even a Monday evening something to look forward to — a piece of unique, designer seating will give your space the flair you've been dreaming of. Try this Scandi inspired armchair by Latvian brand MINT Furniture. Made with sustainable materials, it's effortlessly comfortable while being easy on the eyes.
Bold
Don't be afraid of colour. In the right combinations, a bold accent shade can be as easy to style as a neutral. Pair a bright pink or mustard yellow with grey; use cobalt blue to lift a room with ivory walls. Alternatively, red can look great when colour-blocked with fuchsia or orange. Experiment with colour charts until you find your perfect armchair shade. Sternzeit designs come in a variety of colours.
Monochrome
For a colour palette that says sophistication, opt for the monochrome look. Elegant, gender neutral and easy to style, there's nothing like black and white to elevate a space. Try the ultra-modern T1 Chair from OMK 1965, crafted from steel in the original British design from 1961.
Contrast
For a look that's truly unique, pair two clashing colours for a bright, modern statement. Perfect for apartments that need a touch of daring colour, we love the Loka Armchair by Colé Italia. It perfectly harmonises contemporary design and Italian craftsmanship in a chic, cubic style that's young, fresh and guaranteed to turn heads.
Now you know the details, it's time to choose your perfect piece. Who can resist curling up in a plush armchair with a book in one hand and a drink in the other? By investing in quality materials and true craftsmanship, you can trust that you're getting a product that will last. That's why we only curate the best design brands based in workshops across Europe.
Discover our curated collection of armchairs