Renovating a Victorian Edinburgh home with Siobhan McFadden
Words By Alice Florence Orr
Seven Minute Read
Siobhan McFadden knows a thing or two about home renovation. Since moving from northwest Ireland to Scotland ten years ago, this mother of three has turned her passion for interior design into her own colour consultancy business. Inspired by mixing old and new, Siobhan has brought cosy country living into the heart of the city.
She started her own renovation Instagram account @home__stead after her firstborn arrived, her community growing organically over this time. It's no surprise. Siobhan's style is elegant yet approachable — a harmony of design gems and family living.
Since buying her Edinburgh property five years ago, Siobhan and her husband Rory have been renovating their Victorian terrace home. Perfectly appointed in a contemporary cottage style, the interior balances a modern, neutral palette with vintage touches. Conceiving this cosy family home took plenty of imagination at the beginning. In her own words, Siobhan dubbed it the "ugly ducking on the street". But the result proves that all it takes is a bit of time, love and vision to turn a drab house into a swoon-worthy space.
Edinburgh is a real design destination. Stockbridge is Siobhan's area of choice for food, shopping and inspiration. Packed with independent shops and great coffee spots, it has something for any design enthusiast. Scandinavian café Soderberg is her favourite after a spot of shopping at Dicks, Treen and The Method. "There are so many lovely areas in Edinburgh, but I think if I had a day to spend by myself, I'd take a wander to Stockbridge every time."
It all started with structural improvements, including knocking down walls to give their family more space. "It has been and still is a labour of love," Siobhan told us, "We had the house replumbed, rewired, freshly plastered and decorated. We lifted and insulated beneath the original floorboards, sanded and treated them throughout the ground floor."
When it comes to renovating a period property, preserving the original features is often a priority. It was no different for Siobhan and Rory. After they realised that the house's previous owners had stripped out a lot of the details, they were keen to recapture its authentic charm. Reinstating the mantelpiece, exposing the original tiles and stripping off the white paint from the staircase gave back their Victorian home's character.
Discover... contemporary neutrals
Siobhan makes the most of her bright rooms by using cream shades on her walls and describes her home as "fairly neutral with honey and rust accents, plus lots of textures to make it feel like a cosy space to relax in. I love our living room. It doubles up as a playroom for the girls, so we spend a lot of our day there. It's south-facing with a nice panelled bay window and filled with light at all times of the year."
There's nothing like using a mix of old and new to bring an older home into the modern age. Salvaging from scrap yards is a sustainable and cost-effective way of renovating a home, a method Siobhan uses for her own fixer-upper.
"The large over-mantle mirror was found at a salvage yard. Along with the wood burner, it makes a lovely focal point in the living room. These pieces don't come easy but when they do it is worth the search. Other pieces of furniture, like the cabinet and sofa, are quite Scandinavian."
When it comes to maximising a family home, lighting is a feature that is often overlooked. Siobhan recommends using table lamps to evoke a warm and inviting atmosphere, advice she gives to her clients when they're looking to add ambience to their property.
Another question Siobhan is asked during her consults is how to add authentic design details to a functioning family home. "We balance the two by being sustainable with our purchases as much as we can. We love restoring old pieces of furniture and this is so much more affordable than buying new. If we clean and paint an old armoire in the girls' bedroom it looks more individual than if we went to a shop to buy it."
"Take our flooring and old farmhouse dining table. We like the character of these old pieces. They are far from perfect but they suit our lifestyle right now with young children and we don't have to be precious about them."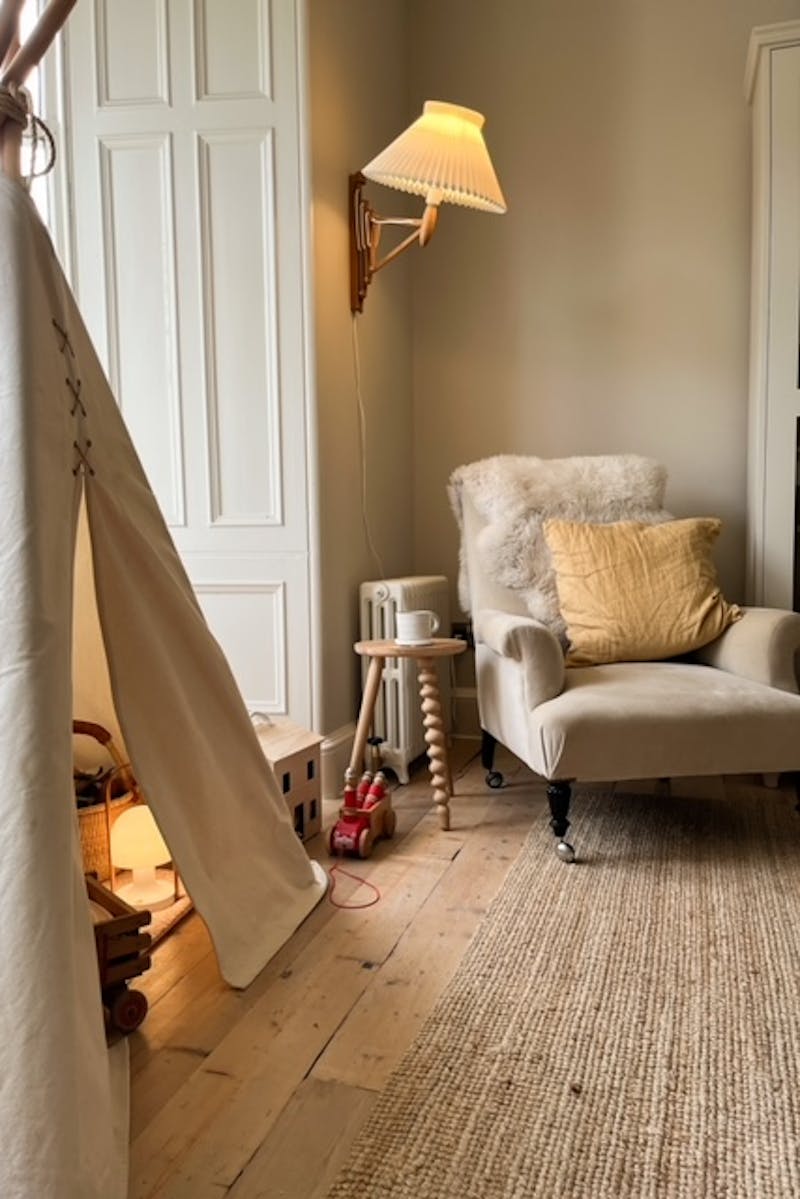 Neutral colours create a contemporary country look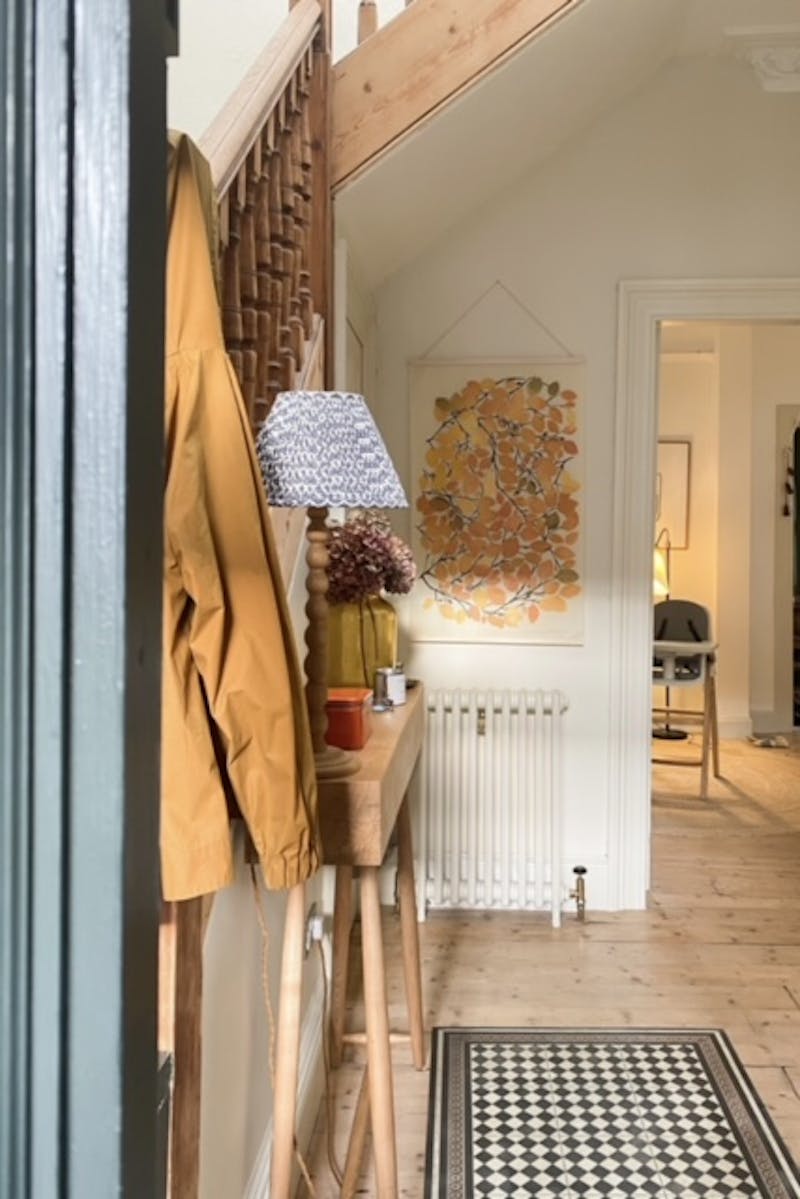 Add

soft furnishings

to wooden surfaces for a

hygge

feeling
Mixing vintage and upcycled pieces with quality European design will give any space a unique, authentic style that's personal to you. For new home renovators, Siobhan has a few tips: "Research, plan and don't rush to decisions. I always think it's worthwhile living in your home for a spell before you make the changes. That way you get a feel for each space and how you would like to use it.
Spend money wisely at the beginning on things like plumbing, electrics and roof maintenance. In the beginning, it will be difficult not to blow your budget on things that aren't cosmetic. Down the line, you'll be glad that you did it in the right order!"
Interested in a colour consultation with Siobhan? Contact her here.
Get Siobhan's contemporary country look