Find your personal style: rich hues for the new season
Words by Saj Azam
Seven Minute Read
Inject some colour into your wardrobe — and life
We get it, wearing colour can be risky business — especially if you're someone who's used to the comfort of their black, white and grey neutrals. Where do you begin? What do you pair it with? Is there such a thing as too much? We explore all that and more in this guide, so you'll be styling bold, colourful pieces like a pro in no time.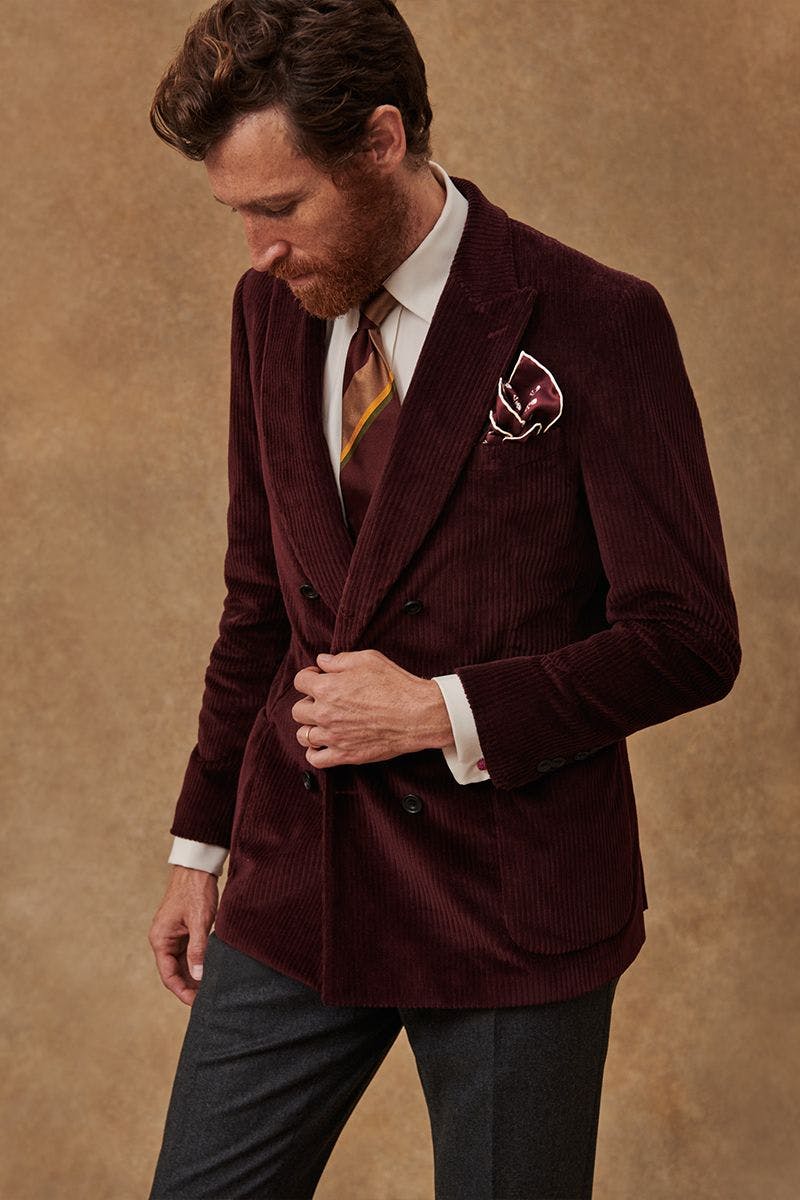 Classic Tweed Single Breasted Roll Jacket

by New & Lingwood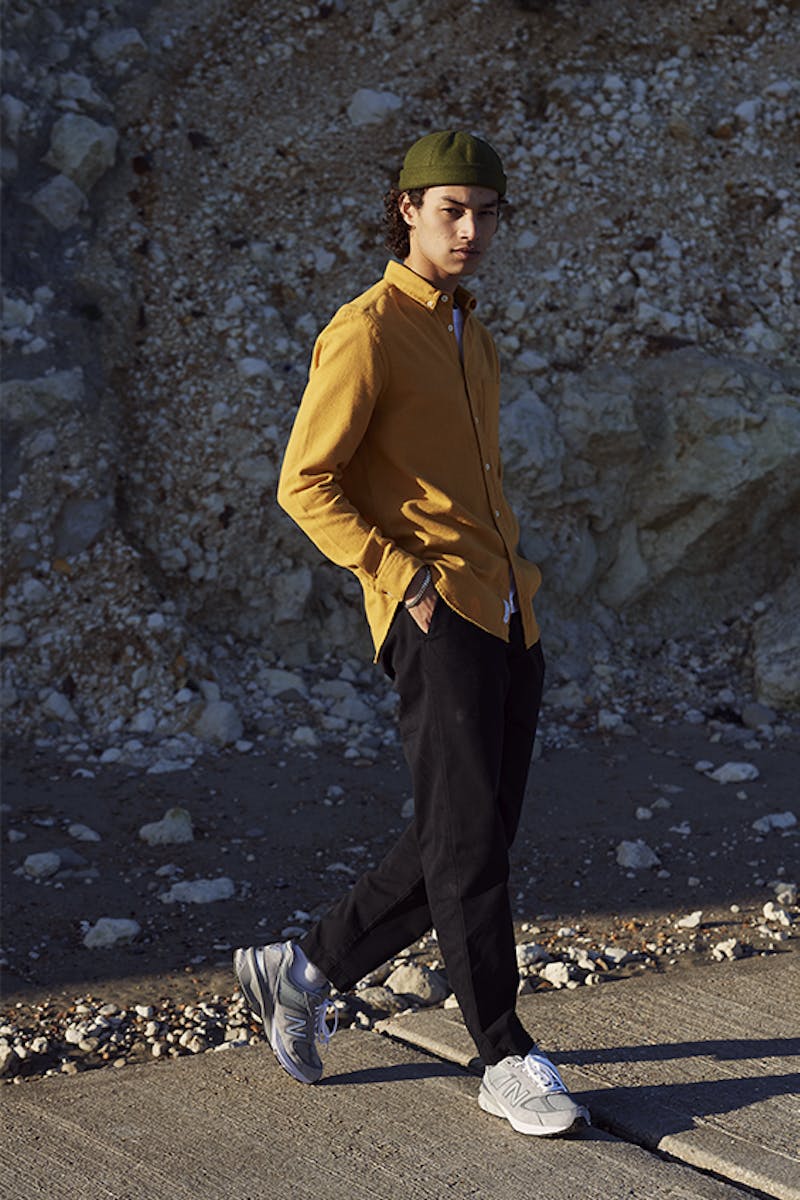 Mustard Classic Button Down Shirt

by BHODE
Why You Should Wear Colour
Introducing a splash of colour to your wardrobe and outfit is a great way to add character, interest and showcase your personal style. While colours can often feel daunting, there are some simple ways to ease yourself into it. But it's not just a style statement, they can brighten your mood and elevate the feelings of others around you, it can also motivate you and make you much more approachable.
As an element of fashion, colour transcends seasons and has the ability to be timeless. There are however certain palettes that work better at different times of the year. Pastels and lighter tones like yellow, light blue and zingy greens are better for the summer as they'll reflect heat and light — keeping you cooler. Dark mustard, navy, burgundies and deep greens are ideal for winter, as these shades are known for absorbing heat and so are better for keeping you warm.
Unsure where to start? Why not check out our Rich Hues edit, featuring pieces from esteemed craftsmanship brands like Percival, M Moustache, BHODE, Valenza and many more — the perfect way to start your love affair with colours. Incorporate a few of these pieces into your capsule wardrobe as part of your seasonal rotation.
Tonal Dressing
A foolproof method for wearing colour is to go all tonal, this refers to two shades of the same nuance worn together. This type of dressing requires forming an outfit of one singular shade. It's an effortless look that is both timeless in its style and easy to accomplish. Pick a colour — any colour, like brown and style brown trousers with a brown shirt and brown jumper, finished off with either brown boots or white sneakers. For a smarter look, try a two-piece suit in one tone like light blue or yellow.
Bombinate tip: Style these muted, military-style trousers from Cruna with this basic tee from Hamilton and Hare and this button-up cardigan from Far Afield, finished with this stunning statement mac from Wax London.
Accent Colours
An easy and effective way to introduce a pop of colour into your look. Choose a neutral-toned outfit as a base and opt for 1-3 accessories or pieces in a complementing colour of your choice. For example, if your outfit consist of black trousers and a plain white tee, you could finish it with khaki sneakers and a matching tonal fedora or cap. When it comes to choosing accents, think out of the box, it could be anything from your watch strap, to your jewellery and even your socks.
Style tip: pair these light blue Hunt driving loafers from London based brand Duke and Dexter with beige chinos, this blue shirt in Mouliné cotton from Delikatessen and a light neutral-toned jacket, for a look that's quietly elegant.
Colour Blocking
If you're looking to style a singular statement piece, ensure the rest of your outfit is neutral. For effective colour blocking, we recommend sticking to solid tones and the same saturation — no pastels with bold colours. Another way to understand which shades work best together is to use a colour wheel. Find the colour of the main piece of your outfit on the wheel and choose the one opposite for what accessories to match. For example, if you're opting for a cobalt blue jumper, you could pair it with a red backpack.
Bombinate tip: Make a statement with these red corduroy trousers from New & Lingwood layered with a white shirt, navy jumper and white sneakers. Alternatively, why not try out singular colour blocked piece like this contemporary jumper from UK brand Peregrine, paired with some navy trousers and khaki sneakers. These ones from M Moustache are the perfect match.
Our Top 5 Tips For Styling Colourful Pieces:
Wear a colour you like — don't go for ones you don't like.
Always pair with a neutral tone — this will complement the bold piece, making it more muted.
Choose a style you're comfortable with — having two elements of a piece that are out of your comfort zone could be overwhelming.
Try adding a colourful belt or socks — a stress-free beginning to your adventure.
Choose colours that complement your skin tone — check out our styling tips blog post here.
When it comes to picking statement pieces for you wardrobe, we recommend opting for quality over quantity. A well-made jumper cut from premium materials that you can style year after year is better for you, the environment and the skilled craftsmen who made it. And these are also elements we take into consideration when hand-selecting each brand that makes it onto Bombinate. Find out more about our selection process and Bombinate's Four Pillars of excellence.
Discover our Rich Hues edit