The Venetian Pantry: a London home with an Italian touch
Words By Alice Florence Orr
Ten Minute Read
Italian style has long been synonymous with taste and quality, two things that Martina, better known as The Venetian Pantry, brings to the task of restoring her London home. Martina is a lifestyle, home and recipe creator who moved to London in her early twenties to do a Master's in Graphic Design. First living in Shoreditch with her partner Joe, they moved from their noisy, one-bedroom flat to a mid-terrace Victorian house in Stoke Newington. Built in the 1850s, this house was everything that Martina had envisioned. "As much as we loved our flat, we found ourselves needing more space, more greenery and a quieter neighbourhood. After a few viewings — and a couple of horror stories — we eventually found The One".
With large, bright windows, an open plan kitchen and characterful charm, this was the home that Martina had been waiting for. I spoke to Martina all about her interior design inspiration, the challenges of renovating a period house, and how she brings the Italian touch to her London home.
For Martina, buying her new home felt more like a romance than a purchase. "It was love at first sight: the house was completely unfurnished, the walls recently painted white, it boasted lovely original features and, most importantly, a massive lime tree at the rear of the garden. Having lived in the middle of the concrete jungle for so long, I was craving to see some greenery out of my window, so that was it for me."
Together, they bought the house at the beginning of 2019 and immediately began the renovation process. I asked her if the Pandemic threw any spanners in the works. "Thankfully, everything went quite smoothly despite some delays. I would say the biggest challenge was to wrap our heads around all the bureaucracy involved. We were both first-time buyers and first-time renovators, so it has been a steep learning curve."
Martina's style is classic, light-hearted and authentic. She takes white walls as her blank canvas, adding heritage touches and contemporary shapes to turn her rooms into sanctuaries from daily life. Airy and chic, her interiors recall Italian villas and Mediterranean homes.
Like everyone else, Martina gets her inspiration from Pinterest and Instagram, but these days it's her own home that's inspiring thousands of others to elevate their spaces. With over 11k followers, Martina has come to deeply value these connections. "The interior community is one of the most helpful and supportive you can find out there. I've found a lot of inspiration through places I have visited, whether it is my favourite hotel in Paris or my go-to restaurants here in East London. And, of course, Italy. Venice, in particular, continues to be a huge influence on me."
Martina's Italian heritage is essential to her style and she was determined to bring it to her life in London. She grew up in a small town in the northeast of Italy, about an hour away from Venice. As a teenager, Martina found life there pretty uneventful and was enthusiastic to leave for something new. "It took me nearly ten years of living abroad to realise how much of Italy I gave for granted – its decadent beauty and most importantly the quality of life I had experienced growing up.
"I am now in my early thirties and find myself cherishing that slower pace of life that I used to find so boring. There is a comfort in surrounding myself with objects that remind me of home."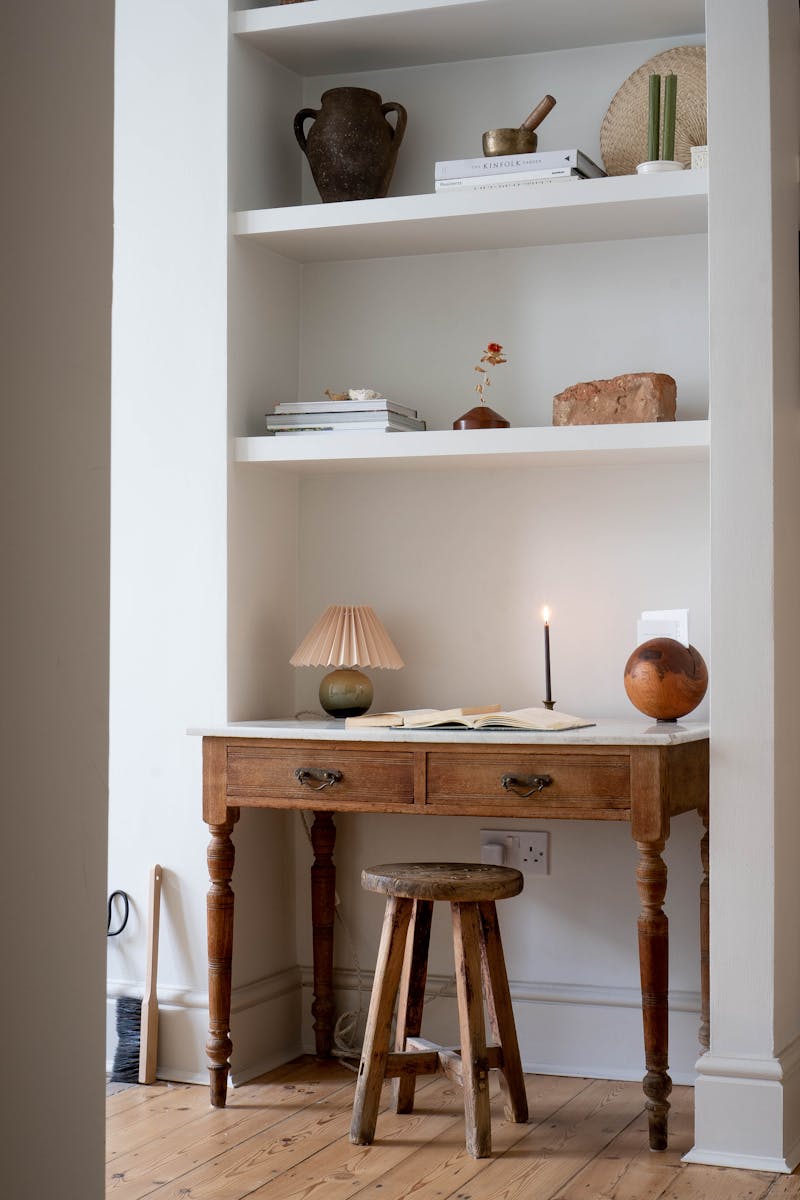 Martina's style is classic, light-hearted and authentic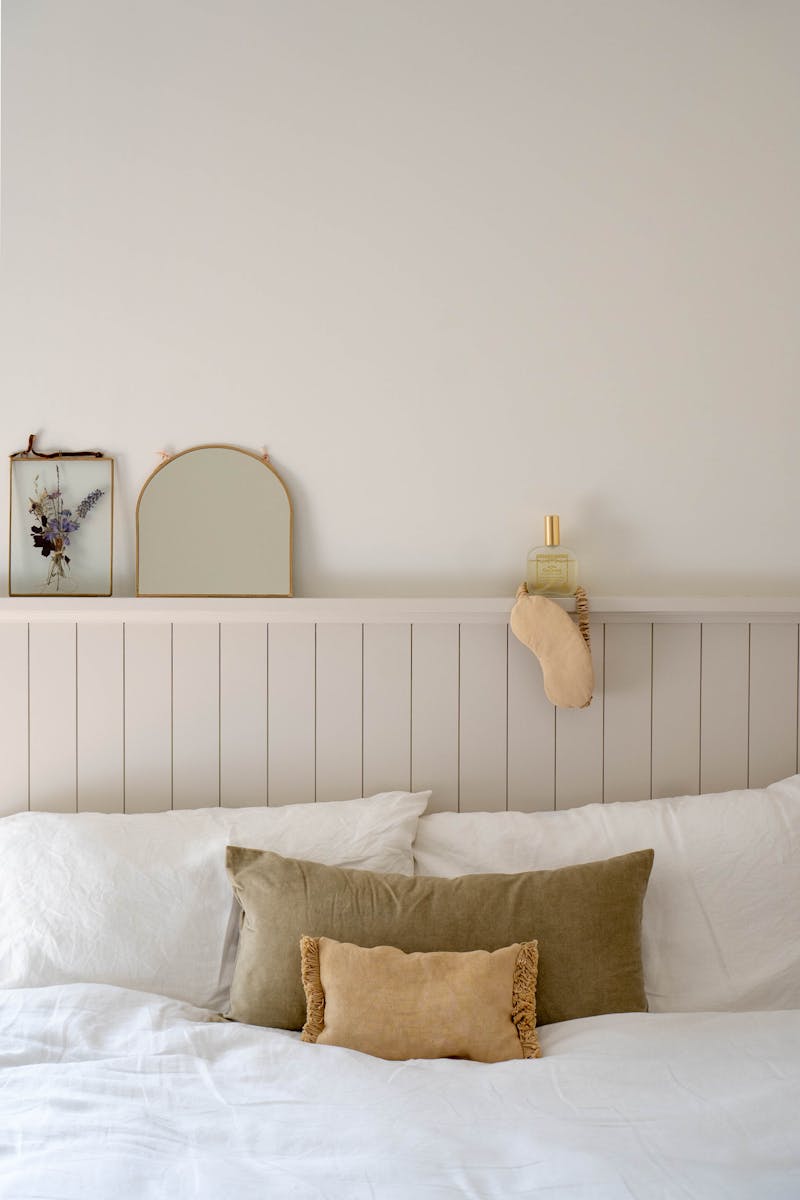 She adds touches of

velvet

to elevate a neutral palette
Without a shred of doubt, Martina's favourite room is the kitchen. "It is the first room I started daydreaming about, even before we bought the house. It's also the first room I designed and where we spend the vast majority of our days." Filled with light, brass fittings and white surfaces, Martina's kitchen is a swoon-worthy space.
"I have always wanted it to be a warm and inviting room, somewhere where our friends would look forward to hanging around. My pantry is the one place in the house that gives me the most joy. Our bedroom in the loft is a close second."
Renovating a house can be a daunting task, especially in a period property where there is lots of red tape. I asked Martina if she had any advice for first-time renovators.
"The first piece of advice would be to surround yourself with professionals you can trust and get along with. We got a few quotes before choosing our contractors, but ultimately we followed our gut instinct and went for people we thought would be a good fit for us on a personal level. Having a good working relationship with our architects and builders made all the difference to me."
"Secondly, try to make up your mind as much as possible before commencing work and stick to your plan. We changed our minds a couple of times during the process, and it naturally resulted in additional costs. And finally, make sure you document and enjoy the process, as much as it can be frustrating at times. For most of us, this kind of project happens once or twice in a lifetime."
Is there anything that she would change about the process? "I remember being in the thick of it and thinking I'd never see the end, but now I look back with fondness. It really has been the most exciting time in our lives."
When it comes to design essentials, Martina knows what she likes and has a few words of advice. "I can't help but think of the core material palette that I like to incorporate in my own space. The key to timeless design, I believe, lies in choosing natural materials: there is an intrinsic honesty and integrity about them that will never go out of fashion."
Martina prioritises texture and quality, opting for marble, antique wood and stoneware. She particularly likes the contrast between lighter woods, such as birch, ash and oak, and darker, richer types like walnut.
Linen is Martina's fabric of choice. It's sustainable, airy and versatile, making it the perfect material for bed linens and tablecloths. "Whether we are talking about a duvet set, sofa cover, napkins or tablecloth, I love the effortless look of natural linen. You can never go wrong with white or melange, but I also love olive greens and terracotta. These colour combos will always remind me of the gloriously decadent walls in Venice."
Martina often adds velvet details in her decor and furniture to give a touch of old-school texture to her neutral palette. "I have a few beautiful hand-dyed velvet cushions at home, ranging hues of gold and green. The exact shade changes according to the time of the day and how the light bounces off them, and I found the colour is also slowly softening from the sun exposure. I love objects that show signs of the passing of time."
For The Venetian Pantry, authentic style is everything. When carefully choosing items for her home, Martina isn't just interested in aesthetics. Craftsmanship, quality, and artisanal heritage are essential. It's not just about aesthetics for Martina.
"Ultimately, for me, it's all about the stories these pieces tell".