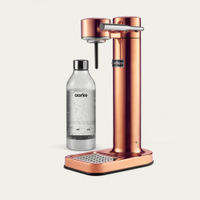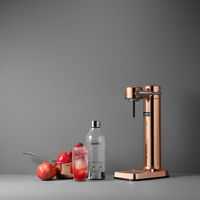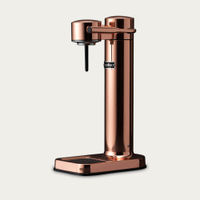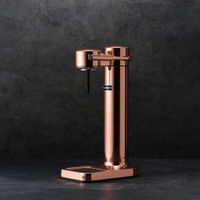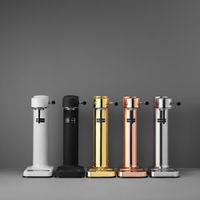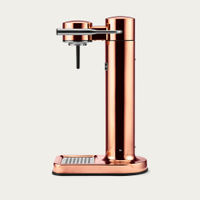 Copper Carbonator II
Shipping & returns 
Description
The Carbonator II is much more than a sparkling water maker. It's the world's first sparkling water maker with a stainless steel enclosure. It's been given a chic new look that's compact and subtle, with a 3-point safety system and design that's easy to use – the lever both carbonates your liquid and automatically releases the pressure. Compatible with most standard CO2 cylinders, and available in your favourite modern and metallic shades.
Story
Aarke was founded to get your kitchen's foundations right – by industrial designers Jonas Groth and Carl Ljungh, who aimed to reinvent the forgotten. They wanted to bring new life to traditional, essential household appliances – the pieces overlooked by the design community. And first on their list? The Aarke sparkling water maker, injecting new life into a vintage kitchen accessory. Their pieces are now sold worldwide, thanks to their contemporary, chic look and on-trend shades.
Features
• Type of Product: Sparkling Water Maker, • Manufactured In: China, • Capacity: 1 Liter ( ≈0,8 l to Filling Indication), • Material: Polished Stainless Steel, BPA Free PET Water Bottle, • Dimensions: Height: 414 mm, Width: 153 mm, Depth: 258 mm, Weight: ≈1450 g, • Water Bottle: Height: 265 mm, Diameter: 85,5 mm, Weight: 209 g, Volume: ≈0,8 l to Filling Line • Included: – Aarke Polished Steel Sparkling Water Maker – 1 PET Water Bottle. – Instruction Manual. • NOTE: Gas cylinder not included
Special Care
When Dirty or Dusty, Please Using A Clean, Damp Cloth Before Leaving It to Dry. If Any Substantial Moisture Remains After Cleaning It, Please Wipe the Surface Dry to Avoid Any Staining.