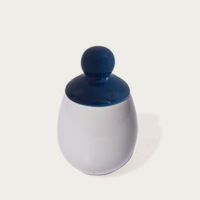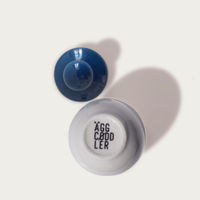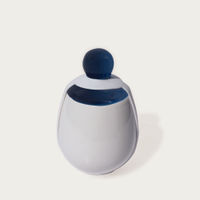 Äggcøddler "Emma"
Sizing
Total Ø 55 mm, top Ø 40 mm, height 95 mm, volume 125ml,Weight 133g
Shipping & returns 
Description
Make eggs a less boring affair with ÄGGCØDDLER – a family-run Scandinavian brand that knows a thing or two about good eggs and good design. The Äggcøddler "Emma" is a porcelain egg coddler. Each one has a carefully crafted shape that allows for max heat distribution during cooking, and comes with a lid plus silicon ribbon to keep it secure when in the pan.
Story
Scandinavian design brand ÄGGCØDDLER does one thing, and does it really well – crafting egg coddlers to help make breakfast, lunch and snack time more convenient. Their heritage spans multiple generations and interconnected families, some forgotten porcelain and a lot of grit. And their lovingly crafted egg coddlers – inspired by a pair of inherited Royal Worcester egg coddlers – have been making mealtimes more convenient ever since.
Features
• Material: Porcelain / Silicon • Color: White/Blue • White Porcelain Shiny Cup and Dark Blue Shiny Lid + White Silicon Rubber Band
Special Care
Dishwasher and microwave safe