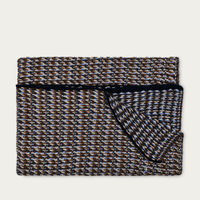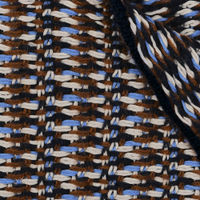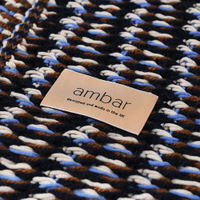 Sky Light Throw
Order now to receive by 30 Oct - 6 Nov
Sizing
Dimensions: 130cm x 190cm
Shipping & returns 
Description
Proudly made in Britain, using modern techniques inspired by traditional styles, Ambar Homeware's statement textiles are the best of both worlds. Their approach favours innovation and sustainable processes, and each piece is designed to make your home a little more 'yours'. The Throw is a graphic, patterned throw that's crafted in Britain. Its large size makes it a versatile piece, and its graphic pattern makes it a great way to add personality to your home. Each piece is woven to last a lifetime, from the best materials.
Story
Founded by Natália Nicolau, Ambar Homeware's on a mission to help you turn your house into a home, and capture your personal style without compromising comfort. In her role as Head Designer, Natália uses her decades of experience in textile development to design her interior pieces – drawing on her architecture background to create new textile structures inspired by architectural shapes and forms. Innovation and sustainability drive all of their designs, which means some of their best pieces come from serendipitous mistakes during the research phase. It's during this important process that the team undertakes extensive research into yarn types and textures, looking into their origin to ensure they build sustainable processes into every piece they craft. All of their knits are machine-made, but they use an artisanal level of detail when creating each collection, and draw inspiration from traditional textile techniques such as hand weaving and embroidery. The best of both worlds.
Features
• Made in Britain
Special Care
Please wash me by hand delicately in luke warm water (30 degrees Celsius maximum) with mild soap to preserve my softness and avoid shrinking. Lay flat or hang to dry.