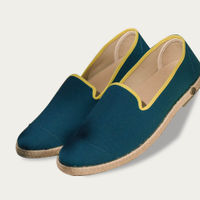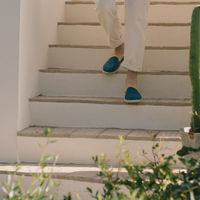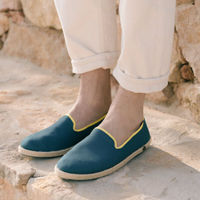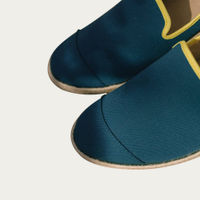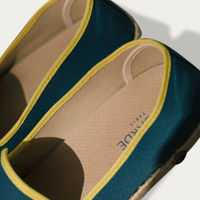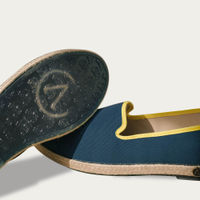 Peacock Blue Espadrille R.
Shipping & returns 
Description
Every day should be a holiday. And while that's an impractical approach, Angarde might be the brand with the solution – designing shoes that are as comforting and relaxing as a trip out of town. They're proudly European and eco-conscious, with a dedication to materials and quality. The Espadrille R. are a pair of men's espadrilles that go way beyond basic. They're ultra-comfortable, water resistant and consciously designed: crafted from recycled plastic bottles, making them 100% recyclable. They've got a sleek yet casual silhouette – the perfect pair of summer shoes to style with shorts at the beach.
Story
Angarde wants to make every day like a holiday – relaxed, comfortable and feeling your best. How? By creating shoes that hero comfort over everything else, without sacrificing style. This French brand was created by two sisters, and its name lets you know that they do things differently – taken from the French word avant-garde. And their styles are fittingly European, in look and origin.
Features
• Water-Resistant and Eco-Responsible Espadrille, • Made from Recycled Plastic Bottles and Is 100% Recyclable, • Recycled Cotton Buckle Inner Lining, • Anti-Odor Recycled Latex Insole
Special Care
Please hand wash with cold water and soap, or machine wash on a cool temperature (30°C max) – without wringing out the water.