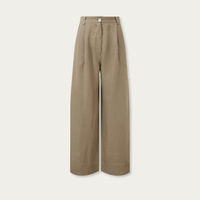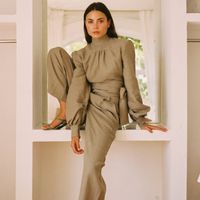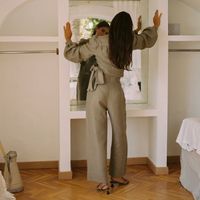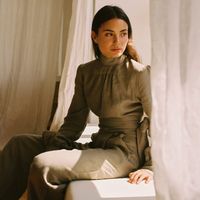 Taupe The Wabi Pleated Linen Trousers
Sizing
• Fits true to size The model wears a size XS and is 169cm tall Waist measurements: XS - 67cm waist / S - 71cm / M - 75cm / L - 79cm / XL - 83cm / XXL - 87cm Leg length: XS - 100cm / S - 102cm / M - 104cm / L - 104.5cm / XL - 105cm / XXL - 105.5cm The trouser leg length can be adjusted by 5cm (just like men's trousers).
Shipping & returns 
Description
Crafted in Portugal and cut from eco-conscious 100% MASTERS OF LINEN®-certified linen, arkitaip's pieces are made with the intention in mind to be passed on from generation to generation. Cut from Belgian, non-see-through linen, the Wabi Pleated Linen Trousers have a high-rise waist that is accentuated by pleats that kick out to a wider leg. They close with a zip and a biodegradable mother-of-pearl-button and feature two deep side pockets. These chic linen trousers were responsibly made in arkitaip's family-owned atelier in Portugal.
Story
Born from the precious mother-daughter bond between Austrian duo Michi and Lea Wieser, arkitaip is a combination of passion, skill and family heritage. Fuelled by an appreciation for her mother's skills with handcrafted goods and her family's wardrobe keepsakes, journalism graduate Lea imagined a brand that offered beautiful, wholesome garments crafted with attention to detail - and the environment. Future-facing yet endearingly traditional, arkitaip seamlessly combines a mother's skill with her daughter's ambition.
Features
• Designed in London and responsibly crafted in Portugal • 100% Belgian, MASTERS OF LINEN®-certified linen • Closes with a zip and a biodegradable mother-of-pearl-button • Non-see through
Special Care
To best preserve my quality and fit, please wash me at low temperatures 30 °C and on a gentle wash cycle (400-600 RPM). Use a mild detergent and lay me flat to dry - please do not tumble dry me. Iron me on a high heat-setting.