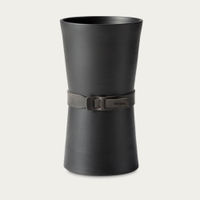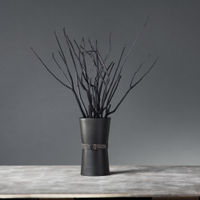 Black Tokoname Vase
Order now to receive by 14 Dec - 21 Dec
Shipping & returns 
Description
Your home and environment shape your experiences. So take control of that experience with essential oils and scents from @aroma – the 100% natural essential oil experts. Each formula's carefully designed by scent blenders, with a specific purpose in mind – from helping you calm down, to helping you lift your spirits. And their ingredients are sourced worldwide from plants and flowers – picked for their quality and longevity. The Tokoname Vase is a vase designed for use with essential oils and the Aroma Branch, crafted traditionally in an ancient Japanese kiln in Tokoname – Japan's pottery district. It's designed to hold 9-12 branches, and its natural look is easy to style – while its shape has been designed for maximum scent distribution.
Story
@aroma is a scent architecture and design brand that believes in the transformative power of scent in how we experience our spaces, as well as the world around us. Scent's part of our evolution – we've relied on it to shape our existence for thousands of years. And @aroma exists to help you make the most of scent at home. Quality's key to curating a high impact sensory experience through scent – which is why @aroma uses 100% natural essential oils, sourced in person from all over the world. And each bottle's put together by skilled blenders, who use years of knowledge to craft an expert, powerful blend – each one with a different purpose.
Features
• Size: Height 225mm × Diameter 130mm • Weight: 1.3kg • Material: Tokoname • Capacity: 9 To 12 Branches • Aroma Branch and Branch & Stick Diffuser Aroma oil not included
Special Care
• In the case of dirt or stains, please tend to the affected area with a clean, damp cloth before leaving to dry.