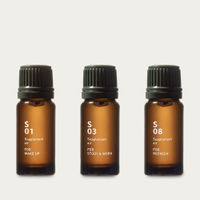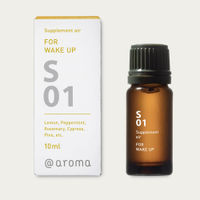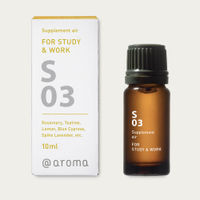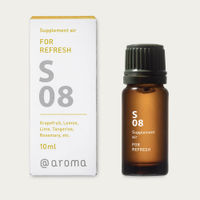 Supplement Air For Work Oil Set
Order now to receive by 16 Dec - 23 Dec
Shipping & returns 
Description
Your home and environment shape your experiences. So take control of that experience with essential oils and scents from @aroma – the 100% natural essential oil experts. Each formula's carefully designed by scent blenders, with a specific purpose in mind – from helping you calm down, to helping you lift your spirits. And their ingredients are sourced worldwide from plants and flowers – picked for their quality and longevity. The Supplement Air For Work Oil Set is a set of three essential oil blends designed to invigorate and inspire, with uplifting notes like grapefruit, tea tree and peppermint. Each essential oil blend has been designed for a specific moment or mood, from waking up on a crisp morning to inducing a studious mindset. Use with the Tokoname Stone Diffuser or Hinoko Wood Diffuser for a complete sensory experience.
Story
@aroma is a scent architecture and design brand that believes in the transformative power of scent in how we experience our spaces, as well as the world around us. Scent's part of our evolution – we've relied on it to shape our existence for thousands of years. And @aroma exists to help you make the most of scent at home. Quality's key to curating a high impact sensory experience through scent – which is why @aroma uses 100% natural essential oils, sourced in person from all over the world. And each bottle's put together by skilled blenders, who use years of knowledge to craft an expert, powerful blend – each one with a different purpose.
Features
• Supplement Air For Work Oil • Oil Set (3 x 10ml Bottles) • ​Ingredients: o S01 - For Wake Up: Lemon, Peppermint, Rosemary, Cypress, Pine, etc. o S03 - For Study and Work: Rosemary, Teatree, Lemon, Blue Cypress, Spike Lavender, etc. o S08 - For Refresh: Grapefruit, Lemon, Lime, Tangerine, Rosemary, etc.
Special Care
• Avoid Sunlight and Store in A Cool Place, • Avoid Using or Storing Near Fire, • Keep Out of Reach of Children, • Do Not Drink the Oil and Do Not Apply Directly onto The Skin, • Securely Fasten the Cap After Each Use and Use Within A Year of Purchase Date, • If Spilled, Wipe Immediately as It May Damage or Discolor Surfaces, • If the Oil Comes Directly in Contact with Eyes, Rinse Eyes Thoroughly with Water and Seek Immediate Medical Attention, • If You Are Concerned About Your Physical Condition, Such as Allergies and Chemical • Sensitivities, Consult A Health Care Practitioner Before Use, • Stop Using Immediately, If You Get Serious Ill During Use