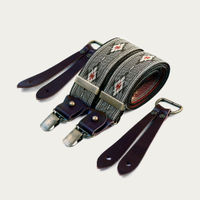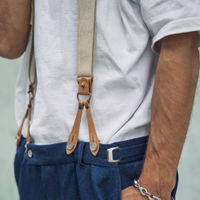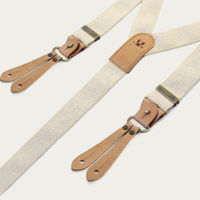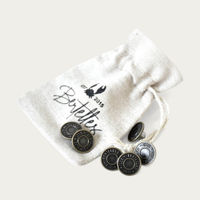 Ecru Selvedge Wide Braces with Natural Leather
Sizing
• Size: 120cm • Width: 35mm
Shipping & returns 
Description
These off-white Bertelles braces were handcrafted in a family-owned Belgian workshop which has been operating for four generations. The natural leather details and the elasticated band make these braces an easy-going classic to compliment your wardrobe with subtle, old-school sophistication. The interchangeable clips which come in an aged brass finishing ensure that you can attach them to almost any garment.
Story
Meet Quentin and Gilles - a duo of friends, fashion enthusiasts, and the creative minds behind Bertelles (which by the way, is an intentionally dyslexic slip of the tongue for "bretelles.") With an eye for innovation and a penchant for retro swagger, the Belgian founders launched the brand with the desire to honour a sartorial classic and make it cool again.
Features
• Grips: Interchangeable Brass Clips with Antique Finishing and Special Leather Straps On D-Rings, • Natural Leather Details and Embossed Leather Badge, • Set Of 6 Denim Buttons (Made in Italy)
Special Care
Please hang or store me in a cool, dry place when unworn to best preserve my quality and longevity.