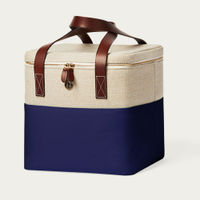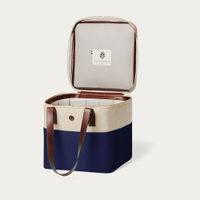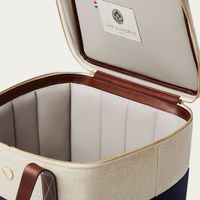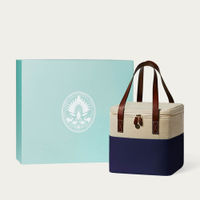 Navy Blue Picnic Cooler Bag
Shipping & returns 
Description
Crafting pieces to enhance your holidays – from sleek beach towels to waterproof tote bags – French lifestyle brand Cap d'Arsène invites you to embrace savoir-vivre. Relax, and look good doing it. The Picnic Cooler Bag is chic and colourful – with hand-finished details that give it a luxe look and quality to elevate your picnic. It's designed to keep your drinks and food cool while you enjoy your day out, and the inside's lined with a washable isotherm canvas to make it practical as well as beautiful. Its deep, zip-around structure gives you maximum storage capacity, and with leather handles and zip pulls you won't lose it in a crowd.
Story
Elevate your holiday spirit with French lifestyle brand Cap d'Arsène – crafting well-made, good-looking holiday accessories to help you slow down and make memories with the people you love, without sacrificing your style. Inspired by travel, seaside resorts and savoir-vivre – the art of elegant downtime – founder Laurent Soulet is on a mission to help restore elegance to coastal, waterside vacations. Everything's crafted by hand picked Parisian ateliers and award-winning artisans, with the best fabrics around – sourced personally by the founder himself.
Features
• Hand-Made Finishes, • The Inner Part Is Covered with An Isotherm Lined Washable Canvas, • Dimensions: 12 X 12 X 20 In.
Special Care
In case of any dirt or stains, please tend to the affected area with a damp, clean cloth (and if needed, a bit of soap!) before leaving me to dry.