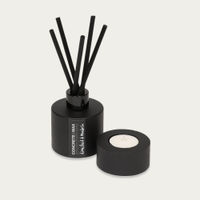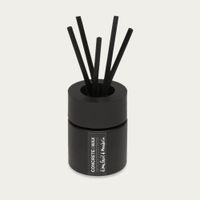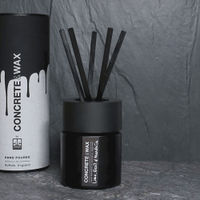 Lime Basil & Mandarin Reed Diffuser
Order now to receive by 2 Feb - 8 Feb
Shipping & returns 
Description
Add ambience and an artisanal touch to your home with CONCRETE & WAX. Each design-led candle and candle holder is hand-poured, hand-finished and packaged in Suffolk, using locally sourced materials. The Reed Diffuser is a matt black, glass reed diffuser with a hand-poured concrete lid that can be used independently as a tealight or candle holder, plus a scent-matched tealight. Its 5 chunky reeds not only look cool, but disperse your chosen scent evenly and powerfully too. And when not using the concrete top as a tealight or candle holder, it can be left on the diffuser bottle to give it a distinctive and stylish look.
Story
CONCRETE & WAX knows a thing or two about the need to slow down. The Suffolk-based candle brand was founded in 2018 by married design duo Alex Sommer and Laura Keller, who worked in the fashion industry for over 20 years – 15 of them spent running their own creative consultancy. So you can expect their candles and candle holders to look good, and be full of creative details – without the fast-paced production process found in the world of fashion. The inspiration for their brand came from Alex's concrete experiments, with Laura suggesting that wax would be the perfect visual complement – the Mrs Wax to his Mr Concrete. Each piece is hand-poured, hand-finished and packaged in their Suffolk workshop – an artisanal approach, with materials sourced as locally as possible.
Features
• Matt Black Glass Diffuser • 5 Chunky Pleasure-Dispersing Reeds • Available in The Following Fragrances: o Lime, Basil & Mandarin o Sandalwood & Black Pepper o Amber Noir o Tobacco & Oak
Special Care
To best preserve appearance and longevity, please shelter from direct sunlight and store in a cool, dry space. Please use with care and be wary of surrounding objects while burning candles.