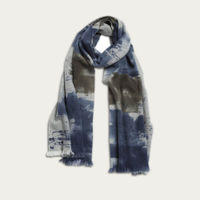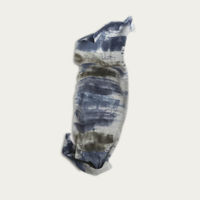 Grey & Blue Marco Scarf – Handpainted Cashmere Scarf
Order now to receive by 2 Nov - 4 Nov
Sizing
One size (200cm x 80cm)
Shipping & returns 
Description
Marco Scarf – Handpainted Cashmere Scarf is a fringed, patterned scarf in cashmere.
Story
Crafted Society believes in luxury for GOOD®, founded in 2016 by husband and wife duo Lise Bonnet and Martin Johnston. Together they share two children, and their clothing brand's driven by the need to create a better world for them to grow up in, as well as a passion for exquisitely crafted lifestyle pieces. After a trip to New Delhi, the pair knew they had to create a socially responsible brand as a way to have a positive social impact on the world. And Crafted Society lives up to their dreams – an ethical, transparent and socially responsible luxury brand crafting limited edition sneakers, bags and accessories, made by the best artisans in Italy. Wearing Crafted Society isn't only a fashion statement – it's a testament to your commitment to a better world for all.
Features
• Grey Blue Olive - Hand Painted, • Fringed Ends, • One Size (180cm X 40cm), • Co-Branded with Name of Lanificio Arca, • Made in Italy
Special Care
Put the scarf in the washing machine on a cold hand wash only program once or twice a year to ensure sure the fibers don't dry out and maintains a long life. Dry flat on a towel. Do NOT tumble dry.
More from Crafted Society