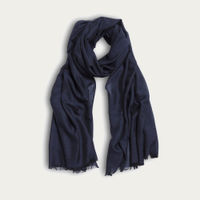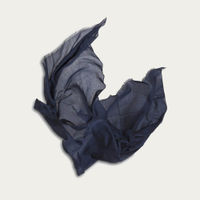 Navy Roberta Cashmere Scarf
Sizing
One size (200cm x 80cm)
Shipping & returns 
Description
The Roberta Cashmere Scarf is a warm fringed scarf in cashmere. Crafted Society's scarves are all made using the best cashmere, from the white goats of inner Mongolia, and the yarn and fabric are sustainably produced by expert Italian artisans. This one's even named after the craftsperson who brought it to life.
Story
Crafted Society believes in luxury for GOOD®, founded in 2016 by husband and wife duo Lise Bonnet and Martin Johnston. Together they share two children, and their clothing brand's driven by the need to create a better world for them to grow up in, as well as a passion for exquisitely crafted lifestyle pieces. After a trip to New Delhi, the pair knew they had to create a socially responsible brand as a way to have a positive social impact on the world. And Crafted Society lives up to their dreams – an ethical, transparent and socially responsible luxury brand crafting limited edition sneakers, bags and accessories, made by the best artisans in Italy. Wearing Crafted Society isn't only a fashion statement – it's a testament to your commitment to a better world for all.
Features
• Fringed Ends, • One Size (200cm X 80cm), • Co-Branded with Name of Lanificio Arca, • Made in Italy
Special Care
Put the scarf in the washing machine on a cold hand wash only program once or twice a year to ensure sure the fibers don't dry out and maintains a long life. Dry flat on a towel. Do NOT tumble dry.