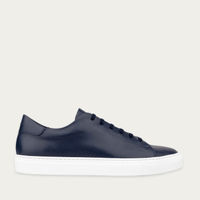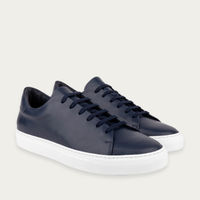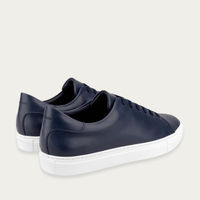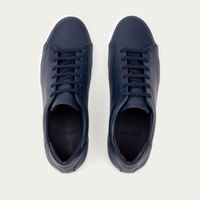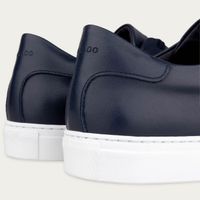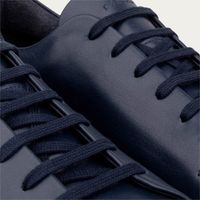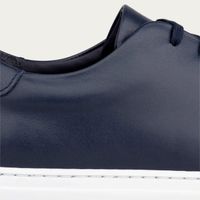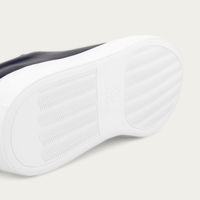 Crafted by Dalgado
Navy Blue Gustavo Low-Top Sneakers
Crafters of Italian leather goods, Dalgado are a brand that approach their classic and timeless designs with sustainability and time-honoured tradition. This sneaker features a minimalist aesthetic, uncompromising comfort, and premium quality – handcrafted in Portugal with the utmost attention to detail. The cushioned tongue, soft leather lining, and margom rubber sole provide incredible wearing comfort throughout the day.
Order now to receive by 31 May - 7 Jun
Size guide 
Shipping & returns
Craftsmanship brand Dalgado take it back to traditional roots, producing premium leather goods in family-run factories from European tanneries. Their classic belts are crafted in a workshop in Hamburg, Germany and their sneakers – handcrafted in Portugal. Whilst their braided belts are produced in Milan, Italy and their timeless gloves are made in a fourth-generation family factory in Naples, Italy. Each one with passion, guaranteeing the highest of quality.
Details are the difference for German accessories maker Dalgado. From design to production, every stage is well-considered before it's carried out. Handcrafted by European artisans with centuries worth of skill, their belts and gloves are intricate and eye-catching – statement enough to switch up your style, but subtle enough to fit any occasion.
• Made in Portugal • Upper: gold-rated nappa leather from Tuscany, Italy • Lining: full-grain Italian calf leather • Outsole: Italian margom rubber • Footbed: Italian calf leather over the removable moulded insole • Cushioned tongue and collar • Includes: extra natural cotton laces in white and grey • Packaging: black cotton dust bag for travelling in 100% recyclable shoebox
Please spray me with Protect & Care spray for long-lasting protection against dirt and moisture. To clean my leather, please use a bamboo lotion and spread the lotion evenly with a soft cloth. Then apply a thin layer of organic cream with a soft cloth to the cleaned leather and let it dry. Finish with Protect & Care spray.