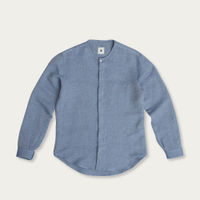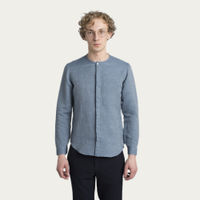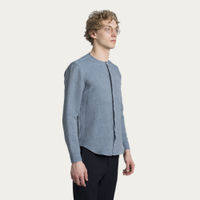 Harmony Shirt in Blue Italian Blend
Sizing
True to size, long sleeve, relaxed fit
Shipping & returns 
Description
Delikatessen is a European fashion brand that's big on the little things – like their dedication to hand-chosen, premium materials and small batch craftsmanship. Each collection makes fabric the focus, using only the best from across Europe and Japan. The Harmony shirt in Blue Italian Blend is a minimal button-down shirt in an Italian linen cotton blend. It's inspired by a simple t-shirt, and has a small collar, narrow placket and subtle mother of pearl buttons – sleek yet understated. Style with jeans and boots for a business casual look.
Story
Delikatessen is a European fashion brand specialising in all things natural – the world around us, and their premium fabrics. Their motto is high quality in small quantities, so they use only the best hand-picked fabrics – chosen for their touch, comfort and weight. And their pieces are tailored while remaining comfortable, and innovative while honouring real craftsmanship. The creative founders work from a studio on a farm they restored in Burgundy, France. This rich local environment influences their collections, which have an organic look – from their tones to their materials. And in turn, they help protect the environment through a dedication to timeless collections that last a lifetime.
Features
• Finest Italian Fabric, • 55% Linen, 27% Cotton, 18% Seta, • One Inside Chest Pocket • Sustainable Mother-Of-Pearl Buttons
Special Care
The shirt can be machine washed.