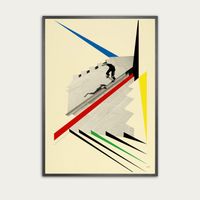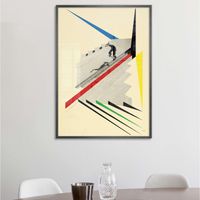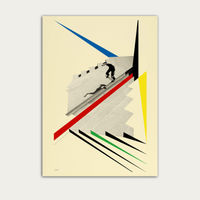 Crafted by Desplans
Ledge Bercy by Bouet & Claudon
Bringing never seen before architecture closer to the people, Desplans is an architecture editor producing high-quality prints from original sketches, drawings and documents. In this piece, the action effect generated by the skateboarder is an essential component of the artwork, breaking the abstracted and cold side. This movement gives humanity to the whole thing and contrasts with the immobility of the architecture extended by the black lines. Each artwork is Limited Edition and comes with it's own edition number.
Order now to receive by 10 Jun - 17 Jun
Sizing
Shipping & returns
Desplans want to show what has never been shown before and bring architecture closer to the general public. They work in collaboration with 50 of the top architects from around the world, editing original modern architectural plans, sketches and more into contemporary art with a wealth of character and depth. Each one a masterpiece in its own right, they use high-quality Hahnemühle photo Rag 308 g/mA, or Hahnemühle William Turner 310 g/mA paper and giclée printing with anti-ageing pigment inks. And each one comes with a certificate of authenticity, signed by the architect, guaranteeing its fine art quality.
Founded in 2015 in Paris and Stockholm, Desplans is a community of around 50 of the best names in modern architecture. After discovering that original architectural drawings were unavailable to the public, Desplans set out with a mission to offer signed and limited edition, edited sketches, illustrations, plans, cross-sections and models – revealing the craftsmanship and intricacy of these architectural designs, for people to enjoy.
• Made in Sweden and France • Paper: Hahnemühle William Turner 310 g/mA • Medium: giclée art print with anti-ageing pigment inks • Guarantee: certificate of authenticity signed by the architect • Black brushed aluminium framing • A2 (42 x 59.4 cm)
• Please don't hang me on a wall facing the sun directly as my colours may fade over time. • When dirty or dusty, please tend to my frame using a clean, damp cloth before leaving to dry. If any substantial moisture remains after cleaning, please wipe my surface dry to avoid any staining.