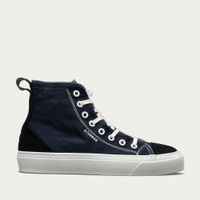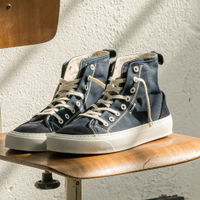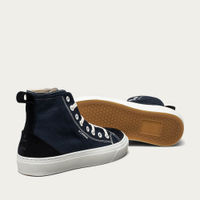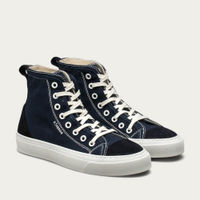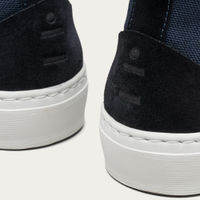 Marine Blue Canvas Twist High
Order now to receive by 8 Feb - 16 Feb
Sizing
Shipping & returns 
Description
In the words of Fleetwood Mac, with DiVERGE sneakers, 'you can go your own way'. They're handmade from top-quality materials, and come in creative, colourful styles that help you express yours. The Twist High is a pair of slick canvas high tops made to last – in Portugal, using premium canvas and suede. They've got a playful look thanks to their striking stitching and design details. And they're comfy to wear all day – with your favourite jeans and a tee – thanks to their leather and foam insole plus chunky rubber sole.
Story
Founded by a group of friends who just couldn't find sneakers that expressed their personality, you can expect DiVERGE's pieces to be full of character. From customisable designs to fun-filled ready to wear pieces, their sneaker styles help your wardrobe pack a bigger punch, from head-to-toe.
Features
• Handcrafted in Portugal, • Multi Layer Canvas Sneaker, • Multi-Texture Upper: Premium Canvas and Soft Suede, • Flat Cotton Lacing, • Premium Canvas Lining, • Leather/Foam Insole - Fully Breathable and Antibacterial, Completely Removable for Daily Use, • Contrast Rubber Cupsole - Stitched and Glued for Durability, • Embossed Logo, • Composition: Upper: Canvas and Suede, Lining: Canvas,
Special Care
• Plain Leather: Apply A Thin Layer of Leather Balm and Once It's Dry, Gently Brush to Keep the Finish of The Leather Always in Good Conditions. Opt for Softer Hog Bristles to Make Sure You Don't Damage Your Sneakers. A Leather Protector Spray Is Also an Option to Consider. • Suede: Use A Brush to Gently Remove Any Dirt or Dust. Brush in The Direction of The Fabric's Grain to Avoid Damaging It. Dry Stains Can Be Removed by Using A White or Brown Gum Eraser. If It Doesn't Work We Advise You To Visit Your Local Cobbler And Get Additional Advice. • Nubuck: Nubuck Cloths Are the Best Option to Remove Dirt and Shiny Spots. Wipe in Several Directions Using Circular Motions and Make Sure You Cover the Entire Nap Area. • Rubber Soles: Clean the Dirt with A Dampened Cloth and Carefully Soak the Sole in A Mixture of Water and Dishwashing Soap. Make Sure You Don't Soak the Upper Part! Use A Toothbrush with The Mixture to Scrub Your Soles. Once It's Done, Dry the Sneakers Using A Cloth.