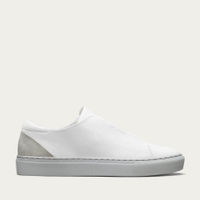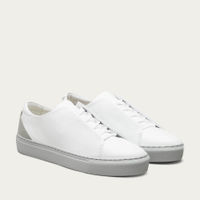 White Leather w/ Grey Minimal Low
Order now to receive by 11 Feb - 21 Feb
Sizing
Fits true to size, except EU41 and 42 that fit small.
Shipping & returns 
Description
In the words of Fleetwood Mac, with DiVERGE sneakers, 'you can go your own way'. They're handmade from top-quality materials, and come in creative, colourful styles that help you express yours. The Minimal Low sneaker is a spin on the classic low top style, with a cleaner silhouette and minimal features – like concealed laces. That way, the design won't distract from the bold colourway you choose. And in premium calfskin with a soft leather lining, they're as comfy as they are cool. Add instant edge to a basic outfit.
Features
• Handcrafted in Portugal • Low-cut sneaker • Premium Italian leather • Internal flat cotton lacing • Soft calfskin lining • Padded heel counter • Leather/Foam insole - fully breathable and antibacterial, completely removable for daily use • Rubber cupsole - stitched and glued for durability • Embossed logo Composition: • Upper: Calf Leather • Lining: Calf Leather • Sole: 100% Rubber • Laces: 100% Cotton
Special Care
Leather: Apply a thin layer of leather balm and once it's dry, gently brush to keep the finish of the leather in good conditions. Opt for softer hog bristles to make sure you don't damage your sneakers. A leather protector spray is also an option to consider. Suede: Use a brush to gently remove any dirt or dust. Brush in the direction of the fabric's grain to avoid damaging it. Dry stains can be removed by using a white or brown gum eraser. Rubber Soles: Clean the dirt with a dampened cloth and carefully soak the sole in a mixture of water and dishwashing soap. Make sure you don't soak the upper part! Use a toothbrush with the mixture to scrub your soles. Once it's done, dry the sneakers using a cloth.