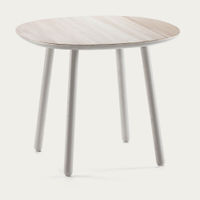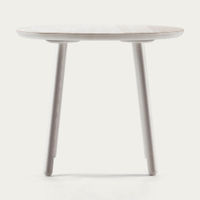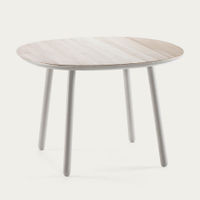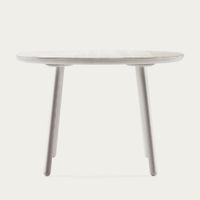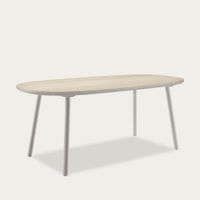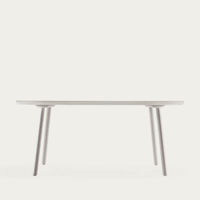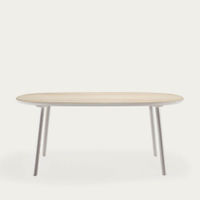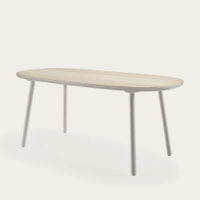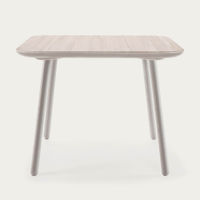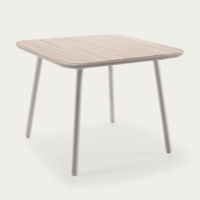 Crafted by Emko
Grey Naive Dining Table
EMKO's a diverse brand with a distinctive look – skilfully combining a love for Lithuanian craftsmanship with a standout Scandi aesthetic. Each piece of furniture is well-made, and made to last.
Size guide 
Shipping & returns
Style your space with pieces full of tradition and charm – two of EMKO's best bits. They take traditional Lithuanian design principles and a Scandi aesthetic, to craft beautiful furniture that's made to stand out. The Naive Dining Table is part of the Naive collection – sturdy and graceful wooden furniture with classic Scandi angled legs. The rounded table top is cosy and inviting, and it looks just as good alone as it does surrounded by its matching pieces.
EMKO was founded in 2009 with big ambitions: to reclaim and reinvigorate Lithuanian craftsmanship. Their distinctive furniture combines the best bits of Northern Scandinavian, Western European and Eastern Russian design principles, and it's an award-winning look – literally. Their focus on light wood is simple yet modern, and for that reason their contemporary pieces are loved worldwide – in Lithuania and beyond.
o Ndin1800 • General Dimensions: H.735, W.1800, D.900 Mm, 59 Kg, • 2 Packages: Desktop: H.140, W.1900, D.1000 Mm, 58 Kg Legs: H.310, W.1090, D.860 mm, 11 Kg, o Ndinsq1000 • General Dimensions: W1000x D1000 X H742mm, 30kg, • 2 Packages: Desktop: W1200x D1200 X H8mm, 28kg Legs: W800x D380 X H350mm, 8kg, o Ndin900 • General Dimensions: H.742, W.900, D.900mm, • 2 Packages: Desktop - H.70, W.950, D.950mm, 18kg Legs - H.350, W.380, D.800mm, 8 Kg o Ndin1100 • General Dimensions: H.742, W.1100, D.1100mm, • 2 Packages: Desktop - H.70, W.950, D.950mm, 18kg Legs - H.350, W.380, D.800mm, 8 Kg • Assembly: Partial assembly required, • Instruction Included: Yes, • Wood: Solid ash, • Paint: Polyurethane, • Felt pads: 8 pcs., • Package: 2 pcs., • Guarantee: 24 months
When dirty or dusty, please tend to your furniture using a clean, damp cloth before leaving it to dry. If any substantial moisture remains after cleaning it, please wipe the surface dry to avoid any staining.