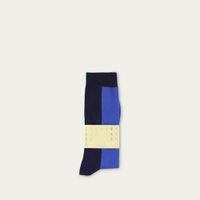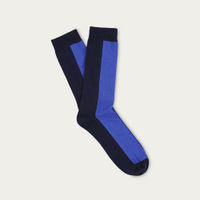 Eclipse/Dazzling Blue Chess Socks
Shipping & returns 
Description
Escuyer's the less basic way to shop basics – their fun, well-made pieces are staples with style. And they're all produced in the very best European factories. The Chess Socks are a pair of colour block socks in a high cotton blend. They were born from a collaboration with another Belgian brand, Castart, and are both elegant and playful – their bold blocks of colour are in easy to style shades. They're super soft and comfortable, but add a sartorial touch to your outfit at the same time.
Story
Escuyer makes more than just quality basics. It makes time too – they make your shopping decision easy, freeing up the modern man from tedious chores like shopping for socks. Their pieces are proudly produced in Europe, in the best factories. And each one's designed to be elegant as well as functional.
Features
• 80% Cotton, 19% Polyamide, 1% Elastan • Made in Portugal
Special Care
To best preserve my appearance and longevity, please wash me at low temperature (30 degrees Celsius) using a gentle detergent. To avoid shrinking, please do not tumble dry - rather hang me out to dry.