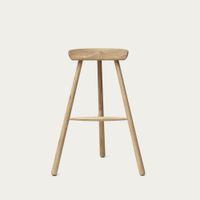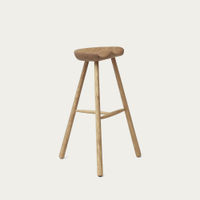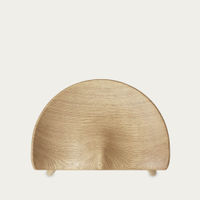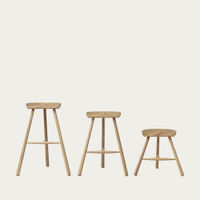 White Oak Shoemaker Chair No. 78
This product cannot be shipped to your location
Sizing
Dimensions: W: 58 cm, H: 78 cm, D: 49 cm
Shipping & returns 
Description
With a modern, Danish aesthetic and a dedication to sustainability and material preservation, Form & Refine is far from your average design brand. Their pieces are crafted by traditional artisans in the same country as the material is sourced, meaning each piece is crafted with generations' worth of expertise and passion. The Shoemaker Chair No. 78 is a classic Danish stool in solid oak. Its curved, comfortable seat is formed from one solid piece of wood – each with a unique grain. And its turned, angled legs and T-frame connection make it a sturdy, stable piece for everyday use. It's a chair with legacy, having been in production since 1936, and is crafted in the exact same way by expert artisans today.
Story
Form & Refine is a Danish design and furniture brand that celebrates materials, valuing form and sustainability equally. Their collections are formed around the character of their materials – which they source globally and craft locally using nearby artisans – and they refine each collection as the years progress. Despite being a new brand with a modern aesthetic, they're dedicated to preserving both traditional craftsmanship and the planet. Their pieces build on the Nordic design tradition and principles, but their dedication to honouring the best makers means each piece is formed where the materials were found – ensuring that the material can be preserved and honoured by those who know it best.
Features
• Materials: o Oak: Solid Natural Oiled European Oak o Smoked Oak: Solid Smoked European Oak o Black: Black Stained Solid European Beech o Beech: Solid White Oiled European Beech o White Oak: Solid White Oiled European Oak • Net Weight: 4,8 kg • Finish: o Oak: Natural Oil Finish o Smoked Oak: Smoked Oil Treated o Black: Black Stained o Beech: White Oil Treated o White Oak: White Oil Treated • Place of Origin: Made in Denmark
Special Care
• Step 1: Clean the surface with a mild soapy water solution. Wipe the surface dry. • Step 2: Apply a neutral furniture oil with a soft cloth. Excess oil must be removed 30 minutes after application. • Step 3: Polish with a clean cloth until an even look is attained. The oil will not harden until after 12 hours. Do not cover any of the surface until the oil has hardened.