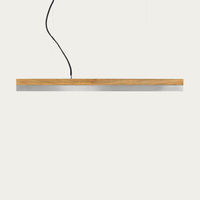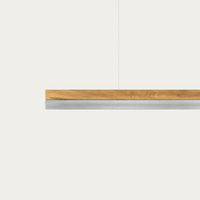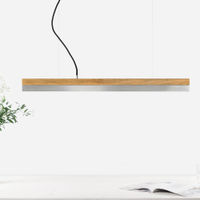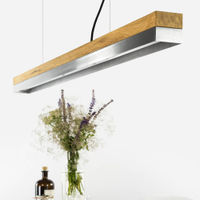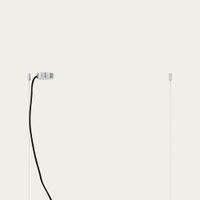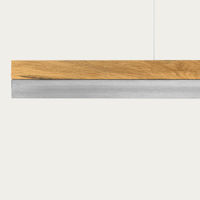 Crafted by Gant Lights
Oak Wood & Stainless Steel Pendant Light
GANTlights makes edgy, minimal lighting designs that will set your home apart from the rest. And with a reliance on handcrafted, contrasting materials and geometric shapes, they're sure to light up any room. The Oak Wood & Stainless Steel Pendant Light is a long rectangular pendant light made from contrasting materials.
Order now to receive by 16 Jun - 27 Jun
Shipping & returns
The brightest ideas are the simplest ones. Which means GANTlights' pieces are true bright sparks. Each one has a pared-back design, relying on shape and contrast to pack a punch. They're handmade in Berlin, and a masterful display of German style. The Pendant light is a classic from GANTlights' collection, characterised by its minimal rectangular form and clever use of materials. This one layers elegant oak wood and stainless steel – a striking style. And a minimal look that'll work well with any colour scheme.
GANTlights makes pieces with a signature style, and the antidote to cookie cutter homes. Each lighting design is handmade in Berlin, and is distinguished by a dedication to shape and material contrast. What they lack in bells and whistles is made up for by their edgy, modern aesthetic – minimal, with a slick look that's typical of great German design.
• Material - Oak Wood, Stainless Steel, • Dimmable – Yes, • Radiation angle - 145°, • Golden Inside Plating, • 2m Black Cable, • 2700K Illumining Without Touch-Dim
In order to avoid injuries caused by falling, the lamps have to be deep-seated into the ceiling. Mounting materials are not included because they depend on the structure of your ceiling. If you have questions concerning this, ask your local specialist hardware store. Be sure to turn the power to the circuit off before starting installation work. In some countries, electrical installation work may only be carried out by an authorised electrical contractor.