Blue Udon Chair by Staffan Holm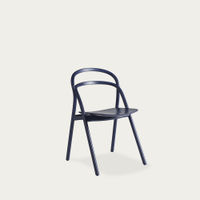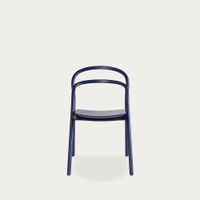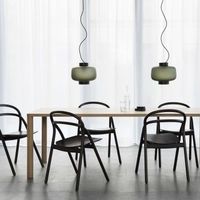 Blue Udon Chair by Staffan Holm
Sizing
• Dimensions: (L) 50cm x (W) 51cm x (H) 80cm • Seating height: 46cm
Shipping & returns 
Description
By borrowing from both European and Japanese carpentry traditions for his Udon Chair, Staffan Holm creates a compelling version of the classic bistro chair. Built from a simple few sturdy joints, Udon attains an openness uncommon to such stiff seating. The beech wood's subtle grain is accentuated by the variously colored stains. Settle for a quick break around the table to dine, work, or play.
Story
Led by a love for design and fuelled by a quest for quality, creative powerhouse HEM is best known for its state-of-the-art furniture, home accessories and lighting installations. Tastefully combining refined, Scandinavian design with a myriad of European influences, the brand offers beautiful, responsibly-crafted embellishments for the modern home.
Features
• Composition: Stained beech wood
Special Care
When dirty or dusty, please tend to me carefully by using a clean, damp cloth before leaving me to dry. If any substantial moisture remains after cleaning me, please wipe my surface dry to avoid any staining.