Dark Blue Hai Chair by Luca Nichetto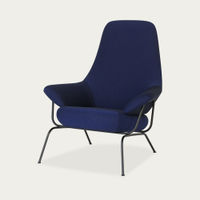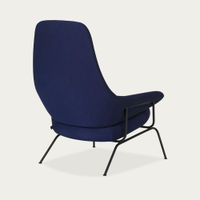 Dark Blue Hai Chair by Luca Nichetto
Sizing
• Dimensions: Chair: (L) 87cm x (W) 88cm x (H) 100cm Seat height: 40cm
Shipping & returns 
Description
With nods to both Italian and Nordic design and a twist of mid-century feel, Luca Nichetto's high-end Hai chair merges classic and contemporary design. Inspired by the sleek form of a whale shark - as suggested by the Finnish "Hai" name - the armchair comprises a slender, elegant metal frame and invitingly soft upholstery. What's more, Hai boasts comfortable functionality; it can be assembled by hand with no tools, making it a darling of the online design world.
Story
Led by a love for design and fuelled by a quest for quality, creative powerhouse HEM is best known for its state-of-the-art furniture, home accessories and lighting installations. Tastefully combining refined, Scandinavian design with a myriad of European influences, the brand offers beautiful, responsibly-crafted embellishments for the modern home.
Features
• Upholstered moulded foam, Steel frame. • Composition: 68% wool / 22% polyamide / 10% polyester, Martindale > 80,000
Special Care
In the case of a stain or liquid spill, please tend to me carefully by using a clean, damp cloth before leaving me to dry.