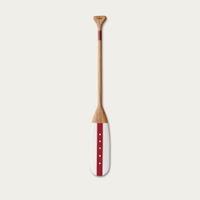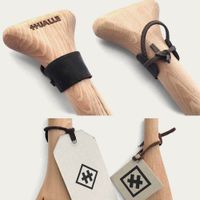 Sate Large Paddle
Order now to receive by 18 Mar - 1 Apr
Shipping & returns 
Description
Hualle's pieces bring meaning and tradition to your homeware – each decorative object's inspired by Chile's history and culture, and crafted by local artisans using native Chilean wood. Pieces with a story to tell. The Sate Large Paddle is a painted, handcrafted oar, made from naturally fallen Chilean wood. The design of this piece represents the Sate, one of the Shoort (spirits) from the South within the Selknam mythology. And its pattern has been achieved with water-based paint that's sealed for longevity, and treated with 100% natural wax. Display on a shelf or hang as unusual wall art.
Story
Crafted by Chilean artisans from Chilean wood, Hualle's a brand with deep rooted history. Each wooden home piece is inspired by the founders' love of Chile – its landscapes, people and nature. And of course, everything's handcrafted in Chile too. Their unusual and artful objects reflect Chile's history – like the oars used by the first Chilean Patagonia inhabitants as they moved between places in canoes. And they're crafted authentically, featuring historic patterns and colours, to honour their plight.
Features
• Handmade and Handpainted, • Wood: Lingue, Mañio, Raulí Or Radal, • Packaging Made of High-Density Cardboard (120 Cm Paddle), • One Leather Hanger for 120 Cm Paddles
Special Care
When dirty or dusty, please clean using a clean, damp cloth before leaving it to dry. Please wipe the surface dry to avoid any staining.