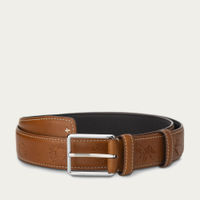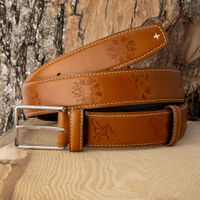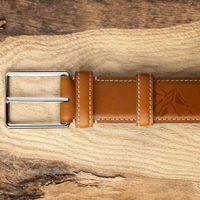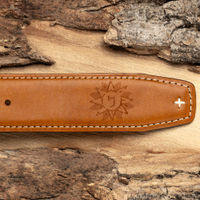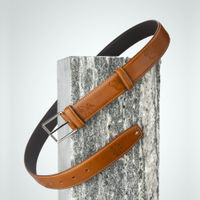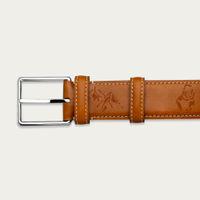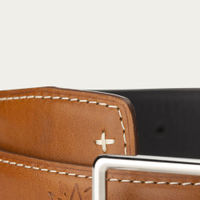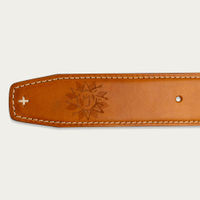 Crafted by J. Hopenstand
Cognac Poya Leather Belt
The Poya belt is J. Hopenstand's own tribute to Swiss craftsmanship – which is carefully handmade from sustainably-sourced tanned cowhide sourced from Sweden. Its exceptionally refined finish evolves over time, creating a unique patina as the leather ages. The beautiful contrasting hand stitching and embossed detailing put the finishing touches on an exquisite piece that will add timeless style to any collection.
Order now to receive by 10 Jun - 16 Jun
Sizing
Shipping & returns
Show off your style and appreciation of savoir-faire with leather accessories by traditional craftsmanship brand J.Hopenstand. Their clients are influential internationals, who love the brand for its heritage leatherworking expertise and superior quality. Unmistakably modern in its design, the Poya belt is made of vegetable tanned cowhide and it has a splendid natural finishing touch that turns into a beautiful patina over the years, keeping the belt modern yet authentic.
Taking its inspiration from the influential clients who purchase its pieces, J.Hopenstand's craftsmanship leather accessories are style as well as industry defining. They're traditionally made, from the currying and tanning techniques to the hand-finished details on each belt or wallet – techniques they've honed since the brand was first founded in 1925. And because each skin is hand-picked, every piece is unique as well as high quality.
• Handcrafted from Tanned Cowhide Leather from a Swedish Tannery, • Exceptional Hand Stitching with Branded Embossed Detailing, • The Leather Develops a Unique Patina as it Matures
Bull-calf leather has natural round grain and is lightly coated to maintain its quality over time. Use a slightly humid cotton cloth in a circular movement to remove stains.