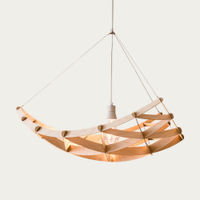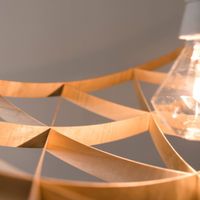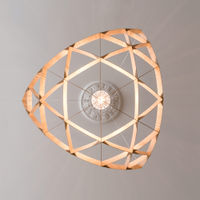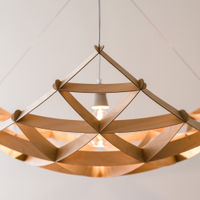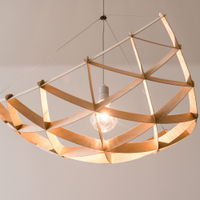 Crafted by Jaanus Orgusaar
Rai Lamp
Heavily inspired by the beauty of the natural environment, Jaanus Orgusaar creates intricate, complex designs that invite the outdoors into our homes. Skillfully combining traditional Estonian craftsmanship and innovative, sustainable practice, the creative studio champions Scandinavian design with a refreshingly green twist.
Order now to receive by 7 Jun - 8 Jul
Sizing
• Dimensions: (H) 240mm x 740mm, weight 0,5KG
Shipping & returns
The geometry of the Rai Lamp origins from a spherical blown octahedron with 1/8th of a part removed. This structure enables an airy but rigid shape, resulting in pure elegance: the Rai Lamp makes a refined addition to any home.
Eponymously named after its founder, Estonian inventor and designer Jaanus Orgusaar, the creative design and architecture studio is best known for its state-of-the-art furniture and conceptual constructions that embellish modern homes and gardens all over the world. Inspired by the beauty and complexity of nature and its founder's daily routine, Jaanus crafts three-dimensional wonders that are as functional as they are awe-inspiring. Varying from lamps, to bookshelves and tables, every piece in the studio's collection makes a refined addition to our homes.
• Composition: 1.5mm Birch plywood. • E27, max 70 WT • Bulb included: No • White textile cable of 1,5M
When dirty or dusty, please wipe your light installation clean by using a damp cloth before leaving it to dry. If any substantial moisture remains after cleaning it, please wipe the surface dry to avoid any staining.