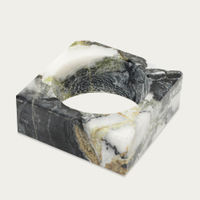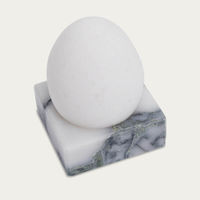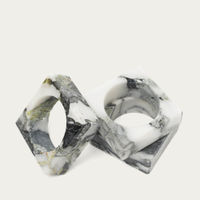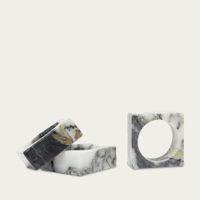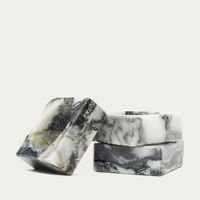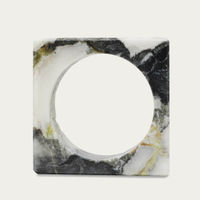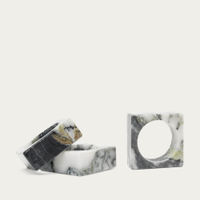 Marble Lotus Green Kuckelei Eggcup
Shipping & returns 
Description
JOHANENLIES is a Berlin-based design brand that ticks every box: sustainable, handcrafted and statement in style. Their furniture and accessories is handmade from recycled timber, and uses traditional Dutch craftsmanship principles combined with a minimal, industrial aesthetic. The Kuckelei Eggcup is a minimal, statement eggcup in recycled marble. Produced from offcuts with no other use, its geometric shape makes it a modern breakfast addition. And in green marble it'll bring a luxe edge to your table.
Story
Berlin-based JOHANENLIES gives recycled timber a new lease of life, transforming it into furniture and accessories inspired by Dutch design principles. Because of the wood's texture – earned in its former life – no two JOHANENLIES pieces are the same. But they're all lovingly handcrafted in their carpentry workshop in Mecklenburg-Vorpommern. Timber furniture originated in the Netherlands – so you'll see a lot of Dutch design and traditional craftsmanship principles in JOHANENLIES' pieces, as well as an industrial meets minimal aesthetic influenced by the founders' tastes. And, better yet, a portion of the profit from every purchase is donated to the youth initiative Plant For The Planet – planting trees and educating children to be ambassadors for climate change.
Features
• Materials: Recycled Marble • Measures 2cm in Height, 5cm Wide and 5cm Deep
Special Care
When dirty or dusty, please tend to your furniture using a clean, damp cloth before leaving it to dry. If any substantial moisture remains after cleaning it, please wipe the surface dry to avoid any staining.