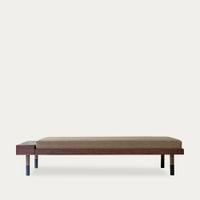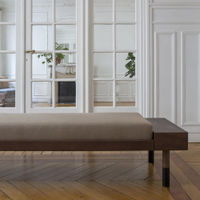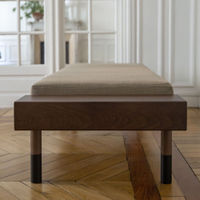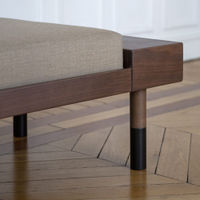 Beige Mi Daybed
This product cannot be shipped to your location
Sizing
Measurements W 200 D 70 H 41 cm Seat Height: 41cm
Shipping & returns 
Description
Vintage-inspired, modern in approach, and the product of a collective of design talent: Kann Design is a studio with heritage and history. Everything's crafted in their own workshop, by the best artisans around. The Mi Daybed is a contemporary daybed in wool and walnut. It's a sophisticated piece, perfect for vintage-inspired or traditional spaces.
Story
Kann Design is a furniture brand that believes in the power of connection. In its first iteration, it was a wood workshop in Lebanon, founded in 1958 by Kanaan. And that same workshop now forms the backbone of Kann Design – the next evolution, run by the original founder's son Houssam, his wife and his best friend. They gathered a collective of the best designers and independent craftsmen around to bring their contemporary pieces to life. And inspired by the Danish design style of the 50s, each piece has a vintage, laidback look with a modern edge – beautifully crafted from quality wood and designed to last for even more generations to come.
Features
• Material (Beige,Brown,Burgundy): Walnut, Woolen Fabric Kvadrat Sunniva 3 • Material (Beige): Walnut, woolen fabric Kvadrat Foss
Special Care
In the case of a stain or liquid spill, please tend carefully with a clean, damp cloth before leaving to dry.