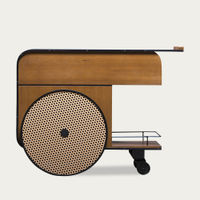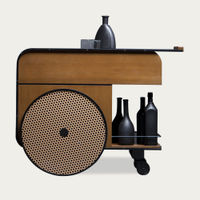 Teak Trink Bar Trolley
This product cannot be shipped to your location
Shipping & returns 
Description
Vintage-inspired, Danish in style, and the product of a collective of design talent: Lebanon's Kann Design is a studio with soul. Everything's crafted in their own workshop, by the best artisans around. The Trink Bar Trolley is a steel, walnut and teak bar trolley with an oversized wheel. It's designed by Caramel Studio for Kann Design, and is super functional thanks to its wooden surface, metal shelf and large wheel.
Story
Kann Design is a furniture brand that believes in the power of connection. In its first iteration, it was a wood workshop in Lebanon, founded in 1958 by Kanaan. And after years of success, that same workshop now forms the pillar of Kann Design – the next evolution, run by his son and daughter and drawing on a collective of the best designers and independent craftsmen around. Inspired by the Danish design style of the 50s, each piece has a vintage, laidback look. And everything's beautifully crafted from quality wood – designed to last for generations.
Features
• Design: Caramel Studio • Equipment: Walnut/Teak, Steel, Aluminum • Dimensions: L 50 x D 46 x H 103 cm
Special Care
In the case of a stain or liquid spill, please tend carefully with a clean, damp cloth before leaving to dry.