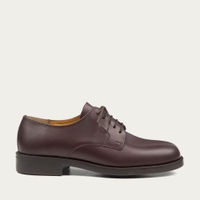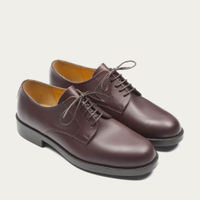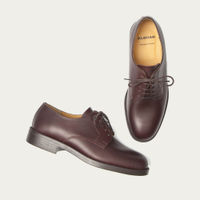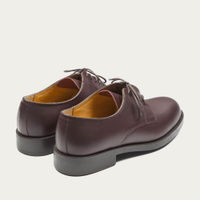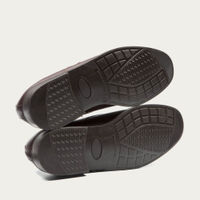 Burgundy Pastani Derby
Order now to receive by 10 Mar - 24 Mar
Sizing
Choose a size below your regular shoe size.
Size guide 
Shipping & returns 
Description
Kleman's shoes have a workwear, chunky aesthetic – and it's no accident. Having been founded straight after world war two, their first fans included the French military and railroad workers. And using the same workshop they've crafted their footwear in since 1988, their styles today retain the same emphasis on timeless functionality. The Pastani Derby are a pair of round toe, retro-style Derby shoes in European leather. Their sole's welded for a lasting finish, and they have anti-shock insoles that make them comfortable for all-day, everyday wear.
Story
With a legacy of more than 75 years, Kleman's workwear-style shoes are truly authentic. The brand was founded by shoemaker René Cléon, who joined the front lines during the second world war. He was taken prisoner in 1940 during the Battle of France, and spent his 5 years in captivity crafting leather shoe prototypes and models. Once the war was over in 1945, he gathered a team of apprentices and acquired his first stitching and assembly machines, creating his first pairs from his family home. And since then, the brand has gone from strength to strength as a family-run business, known for making durable, distinctive shoes. They've supplied the French army, railroad workers, and are now popular with urban men who prefer functional elegance.
Features
• Leather Derby Shoes, • Made In: France, • Upper: Cow Leather, • Lining: Calf Leather, • Sole: Rubber, • Construction: Cemented, • Laces Woven At 10km from Our Factory
Special Care
• We recommend you to waterproof your shoes before any use. • In case of light stains or dirt, please wipe me with a clean, damp cloth and allow me to dry. For more robust stains on suede leather, please use a suede brush. • Please keep me away from water to best preserve my longevity and appearance. In the case of dirt or stains, please tend to me with a damp, clean cloth or for suede leather, use a suede brush to loosen any dirt.