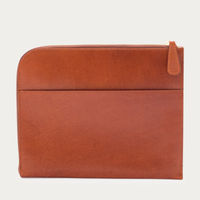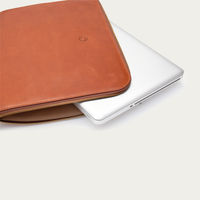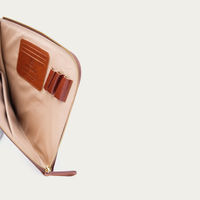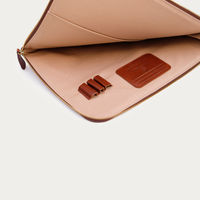 Sol & Brown Mendocino Ipad
Sol & Brown Mendocino Ipad
(free shipping & returns)
Sizing
Length 28cm / Height 23cm / Width 1.5cm
Shipping & returns 
Description
Convenient alternative to a full-size briefcase, the Mendocino Portfolio Case is big enough to transport all your documents in style, yet small enough to tuck under your arm or slip inside an overnight bag or suitcase when you travel. Features include a zip around three sides, with a separate large slip pocket inside the main compartment, to keep your phone or travel tickets and reading material in order. There are also slots for business or credit cards, and convenient loops to hold your pens.
Story
The story of La Portegna begins with one of the greatest literary masterminds of our time; it all started with a journey from Plymouth to Bombay, a lion rug, and a signed photograph from Ernest Hemingway. Founded by Jose Urruita, La Portegna was inspired by the passionate travel souvenirs of his grandparents, in a time where travel was considered a life experience rather than a journey.
Features
• Handmade in Spain with vegetable tanned leather • Zip Closure • Internal compartments and leather pocket for cards • Material: Leather (exterior), Canvas (interior) • Personalisation available • Dimensions: Length 28cm / Height 23cm / Width 1.5cm
Special Care
In case of dirt or light stains, please wipe me gently with a damp cloth and leave me to dry.