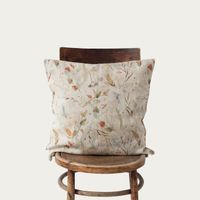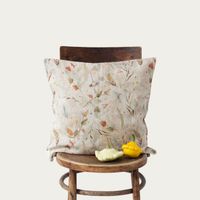 Crafted by Linen Tales
Leaves on Natural Washed Linen Cushion Cover
Family-run brand, Linen Tales brings modern classics to contemporary homes. Crafting premium linen pieces in timeless styles, Linen Tales use traditional Lithuanian craftsman techniques. Introduce an air of simple sophistication to any room. The Washed Linen Cushion Cover comes in a range of subtly sublime colours – freshen up any room with this timeless piece.
Shipping & returns
Linen Tales are the Lithuanian linen specialists crafting simple, yet high-quality linen home accessories from sustainable suppliers. The ultimate home comforts. Home isn't a place, it's a feeling. Give a whole new appearance to your couch and bed with Linen Tales' Cushion Cover made with the softest and finest linen fabric.
Linen Tales is a Lithuanian, family-run brand specialising in contemporary and cosy linen homeware and accessories – made using traditional Lithuanian techniques. They use sustainable linen suppliers and modern colours to craft linen pieces that last. Their unique approach to making practical everyday items more beautiful preserves the tradition of Lithuanian linen, while introducing a softness through light colour and texture.
• Made in Lithuania • 100% European linen (215 g/m²) • Pre-washed for extra softness • Pre-shrunk so it won't shrink • Durable and classic style
New linen should be washed in cooler temperatures for the first few washes; this will set the mercerization process. Please separate me from other items in the first wash. For future washes, please wash me at 40 °C. For stubborn stains, you can wash me at up to 60 °C.