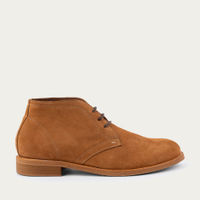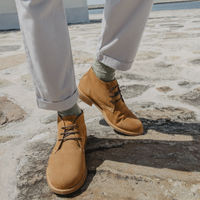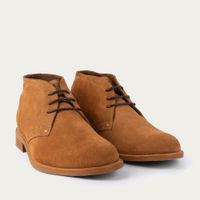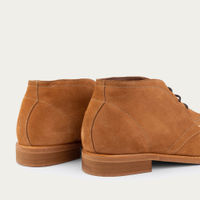 Camel Pierce Suede Leather Chukka
Order now to receive by 27 Jan - 2 Feb
Shipping & returns 
Description
Driven by the constant search for the most sustainable solutions attainable, the Portuguese brand Lusquinos successfully balances style with an eco-conscious approach. The Pierce Suede Leather Chukka boots are the revisited version of the classic chukka. Elegantly shaped and made from responsibly-sourced materials, this suede leather shoe is the go-to-choice for the man that wants to dress sustainably but with style. This chukka boot features a recycled fiber-footbed, making it as comfortable as it is durable. Each pair comes with organic cotton laces and was responsibly manufactured in Portugal.
Story
Founded in 2006, Lusquinos is driven by the never-ending quest for the most sustainable solutions when it comes to shoe-making. An eco-conscious and transparent approach is deeply ingrained in Lusquinos DNA. The Portuguese shoe brand successfully balances style with an eco-conscious approach, never compromising quality. Each pair is handcrafted by skilled local artisans solely using natural, biodegradable components.
Features
• Upper: Metal-Free Biodegradable Suede Leather, • Lining: Biodegradable Leather, • Sole: Natural Real Leather, • Insole: Natural Cellulose Recycled Fibers, • Footbed: Natural Fibers from Corn And Kenaf, • Laces: Organic Cotton
Special Care
In addition to using the cloth process above for leather we are including together with your biodegradable shoes a piece of latex, from leftovers during production of our crepe soles You can use it to clean your suede uppers. All you need to do is rub the suede with it and it will look clean and nice again.