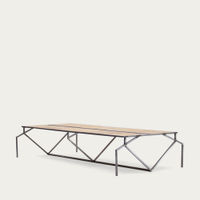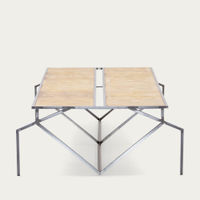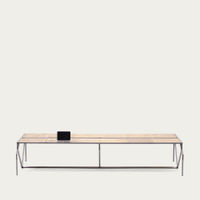 Crafted by Mazanli
Steel Florence Parquet Oum Desk
From a single, handmade industrial bed frame to a furniture brand that's popular Europe-wide, MAZANLI's industrial pieces are minimal yet high impact. Everything's crafted to perfection, by the best in the business. The OUM Desk is a large, minimal work desk in steel.
Order now to receive by 8 Jul - 22 Jul
Shipping & returns
From a single industrial bed frame to a well-loved furniture brand, Berlin-based MAZANLI's popularity is a testament to its dedication to innovation and quality. The OUM Desk is a large, minimal work desk in steel. Its impressive stature can seat teams of up to 8, and there's a clever concealed channel across its surface to keep cables tidy. It's been designed to create a sense of community, and in turn, productivity – and its durable top and angular steel frame mean it's perfect for frequent use.
Berlin-based MAZANLI was founded in 2016, after Süleyman Mazanli's search for the perfect bed frame came up short. His criteria: a bed that was equal parts minimal, sturdy and industrial. But after lots of research, he decided his best option was to craft it himself – his very own dream bed, and the first MAZANLI product. The ION caught the attention of his friends first, and then a large online retailer who placed an order for 85. Which meant quickly scaling into a warehouse, collaboration opportunities, and – now – a business that's popular Europe-wide. Every new piece shares the same industrial aesthetic, as well as an innovative spirit.
• Material: Steel, • Assembly: Not Required, • Included in Delivery: Desk Frame (welded), Table Top Made from High-Quality Oak Wood Parquet, Silicone-pvc Floor Protectors • Product Weight: 80kg • Product Origin: Berlin, Germany
Protect from Moisture. More Moisture in The Room Results Faster Patina Formation. When Cleaning, Wipe with A Damp Cloth and Then Remove The Moisture Immediately With A Dry Cloth.