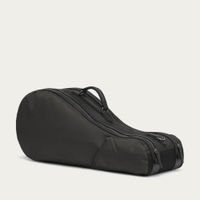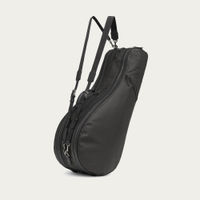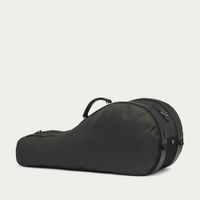 Beluga & Black/Black M/S Tennis
Sizing
L:76 x H:30 x (13) W:22 cm
Shipping & returns 
Description
Attention to detail is in Mismo's DNA. All their bags have a water-repellent coating, and they only use vegetable-tanned, full-grain leather – sourced from Italy, from a centuries-old suppliers. This close relationship – and close observation of production – is what allows them to experiment, developing new weaves and techniques that set their bags apart. The M/S Tennis is a modern, fully-lined tennis bag in technical nylon with leather details. Its bridle leather accents and gun metal hardware give it an elegant look, and it's got just as much function as it has form – designed to hold three rackets plus a towel, shoes and change of clothes. It's shaped in the classic racket shape and has internal pockets for your valuable too, as well as two shoulder straps giving you the option to wear it as a backpack.
Story
Sick of dull, uninspired nylon? So were the founders of Danish bags and accessories maker Mismo when they dreamt up their brand in 2006. They hoped to bring creativity to your carriers, and their approach is creative too – they've never been a brand to follow tradition. Their worldly approach shows in their heritage: they've got a Spanish name, Italian fabrics and Turkish production partners. A brand for those who don't want to be tied down by their geography.
Features
• Crafted from Lightweight Technical Nylon, • Can Hold 3 Rackets in Each of the Two Main Compartments, • Comes with Double-Straps for Possible Backpack Carriage, • Zippers - Hand polished YKK Excella, • Material - Beluga, Double-Bonded Lightweight Nylon, Black, Hard-Wearing Ballistic Nylon, • Trimmings - Black, vegetable Tanned Full-Grain Bridle Leather Black, 35mm Nylon Webbing (Italy), • Hardware - Gun-Metal Accessories, • Lining - 100% Nylon, Beluga, • Fabric Composition - Beluga: PA 47% PL 46% PU 7% 373 gr/rm Black: PA 64% PL 19% PU 17% 862 gr/rm • Laptop & Tech - Not on the tennis court! (...but there's a foamed pocket for iPad)
Special Care
In case of contact with dirt or light stains, please wipe me gently with a damp cloth and leave me to dry.