Moonlight Blue/Black M/S Pouch Large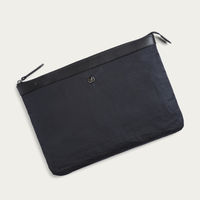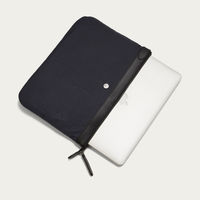 Moonlight Blue/Black M/S Pouch Large
Sizing
• L: 36cm H: 25cm W: 1,5cm • This pouch can contain a 13' Macbook, large iPad and / or A4 documents
Shipping & returns 
Description
Large enough to hold a 13" MacBook, A4 documents or magazines, Mismo's Large Pouch is also padded for a soft feel and added protection to what's inside. Featuring three internal open pockets, two on the front and one on the back, this versatile pouch offers practicality and elegance for life on the go.
Story
Born in 2003 from a lack of diversity and choice in mens' travel accessories, Mismo has grown to become an authority in modern travel luggage and refined, Scandinavian design. The brand, founded by creative entrepreneurs Adam Bach and Rikke Overgaard, offers a myriad of luxurious yet straight-forward accessories and travel bags that facilitate daily life on the go, be it abroad or in the city. In a suave combination of closely-engineered function and minimalist aesthetics, Mismo provides sleek adventure apparel for the modern nomad.
Features
• Ample space for documents, a wallet, notebook and more • Padded for extra protection to gadgets • Three internal pockets • Three external pockets
Special Care
In case of contact with dirt or light stains, please wipe me gently with a damp cloth and leave me to dry.