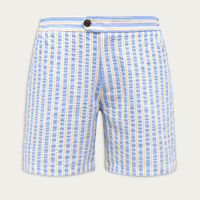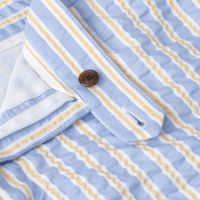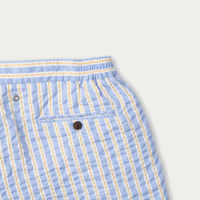 Sky Blue & Yellow Tailored Originals Swim Shorts
Sizing
If you find yourself between sizes, we recommend sizing up.
Shipping & returns 
Description
Morville Originals are where it all started. A signature quick drying blend of materials make these swim shorts perfect for taking a quick dip in the water. The fabric's iconic texture allows air to flow between your skin and the material, keeping you cool during the warm summer months. New for 2019, its Tailored style offers a more vintage look, harking back to the good ol' days of beachwear.
Story
Morville has a natural passion for sunshine and the ocean which is instilled in its founders. It sees the centuries-old material of seersucker revived to create beautiful, retro striped swimwear.
Features
• Bespoke, soft seersucker shell • Semi-elasticated waistband with overlapping fastener • Morville-embossed tortoiseshell buttons • Tailored back pocket • Hidden zip pockets for valuables • 50% polyamide 25% polyester 25% cotton shell • 100% polyester lining
Special Care
Seersucker needs love like the rest of us, so please remember to rinse your Originals in fresh water after each use.