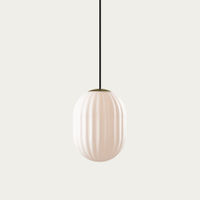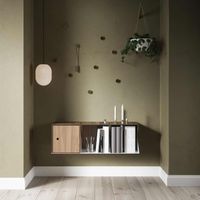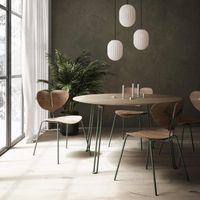 Black Bright Modeco+
Sizing
• Dimensions: Ø20 cm, (H) 29cm
Shipping & returns 
Description
The name Modeco is a contraction of the words Modernism and Art Deco; the two majorly influential periods of the 20th century. This piece is shaped based on the proportions of a hall way, which is typically italler than it is wide. This makes Modeco + very suitable for corridors and taller rooms in general, due to its shape which emphasizes the vertical axis of the room.
Story
Founded in the Danish town of Aarhus in 2012, Nordic Tales has rapidly come a long way from its humble beginnings at Denmark's Institute for X - a product development hub best known for its high profile alumni or architects and design brands. Tastefully embodying Danish design with a rustic yet polished twist, Nordic Tales offers beautifully crafted furniture for the modern home.
Features
• Material: Opal glass, cord • Cord : 300 cm, E27
Special Care
When dirty or dusty, please clean your lamp by using a clean, damp cloth before leaving it to dry. If any substantial moisture remains after cleaning it, pease wipe the surface dry to avoid any staining.