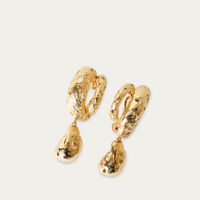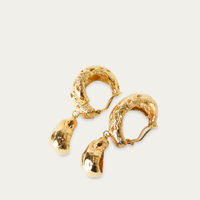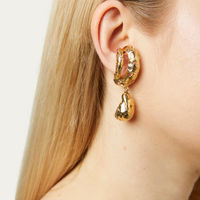 Gold Pamela Earrings
Order now to receive by 26 Oct - 2 Nov
Sizing
One size fits all & true to measurements
Shipping & returns 
Description
Pamela earrings are a unique piece like those worn by ancient Greek goddesses and one of the main characters of Sthenos collection. They don't need more accessories than themselves to enhance the face of the woman who wears them and transmit all her personality and strength. Formed by a double ring, with an irregular handmade texture, which holds a golden charm in the shape of a Mediterranean pearl. The ring is 18kt gold plated and the charm is made of gold metal, made entirely by sustainable processes in Spain.
Story
Barcelona-based PaolaQ Jewelry was founded by the Colombian designer Paola Quintana. As the direct descendant of the Italian sculptor Cesare Sighinolfi, creativity seems to run in her blood. Fascinated by the precious stones found in her native country Colombia, Paola started her career in fine jewellery working for prestigious companies of the likes of Piaget before setting out to launch her own brand in 2014. With PaolaQ, she now creates unique fine jewellery crafted by local artisans in Spain.
Features
• Handmade 24kt gold plated brass earrings with metal pearl charm
Special Care
• When you're not wearing your jewelry you should keep them in a safe and secure place, like your bedroom. • Do not keep your jewelry in the bathroom because all of the moisture from your shower and sink will make the sterling silver pieces tarnish extra quickly. • Jewelry boxes are a great place to keep your jewelry, but you should keep in mind that it does not protect the sterling silver pieces from tarnishing and oxidation. • Avoid direct contact with water and chemical products e.g. soap, perfume, abrasive products. • Do not wear jewelry when in the swimming pool, jacuzzi, sauna/steam room or while bathing or showering. • Chlorine, detergents, oils, moisturizers & perfumes can all cause tarnishing and damage. • Remove jewelry when doing household tasks. • Avoid impact with hard surfaces as much as possible. • Make-up, perfume & hairspray all contain chemicals, which may dull the finish of your jewelry. • Gently wipe jewelry clean with a soft cloth after each wear to remove make up and oils (from skin). • Coil chains gently to prevent damage in storage. • Don't yank or pull chains.