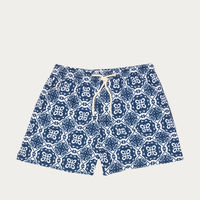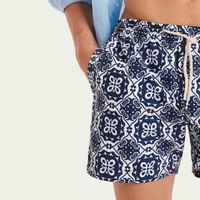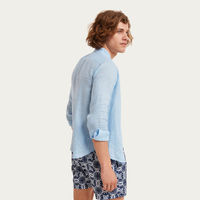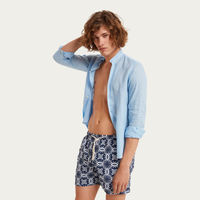 Blu Lipari Micro Elastic Swim Short
Sizing
This model runs true to size, with a tailored fit.
Shipping & returns 
Description
Beautifully designed swimwear combining a flattering fit and artisanal attention to detail. Vibrant hues and a clean-cut silhouette meet fast-drying, soft materials in Peninsula's signature swim short. This particular model was inspired by Lipari, mother of the Eolian Archipelago. While its red and purple rocks speak of its volcanic past, its present has been softened over time by an olive-green flora that adorns its hills and flats.
Story
Inspired by fond memories of a vibrantly Italian childhood, swimwear label Peninsula proudly encases sunkissed specks of its founder's appreciation for the Bel Paese. Featuring a refined blend of rustic, Italian architecture (think seaside villas and romantic hilltop churches) and a colour palette inspired by the sparkling Mediterranean, the brand offers a collection of beautiful mens' swimwear proudly made in Italy.
Features
• 100% Micro Polyester
Special Care
Please wash me at a maximum of 30 Degrees Celsius using a gentle detergent to best preserve my quality and longevity. For best long-term results, wash by hand. If using a washing machine, please the turn bathing suit inside out prior to washing. Hang or lay flat to dry.