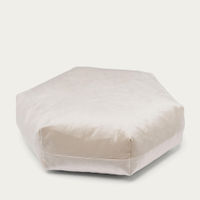 White Plus Hexagon - The Pillow
Conscious
Warranty
Shipping & returns 
Description
Puik's mission is simple, like its aesthetic: bring great Dutch design into more homes. Their furnishings and accessories are created by iconic Dutch designers, who are hand-selected by the Puik family to elevate your family's space. Plus is the statement accessory your seating and sofa needs – a colourful, geometric pop to level-up your look. Each one starts life as a flat piece of soft velvet fabric, before a secret seam causes the cushion to 'pop', becoming a plush 3D shape – this one's a hexagon. Comes in rich colours for even more impact.
Story
Puik is a Dutch design brand that does things differently. Founded by Freek Claessen and Daan Gescher in 2012, the friends used their passion for design and background in sales to help great Dutch design reach more homes. And they did it by sourcing the very best Dutch designers – people whose style matched their taste – and giving them a platform from which to soar. A sharing is caring approach, that'll make you more inclined to share your well-styled home.
Features
• Designer - Ontwerpduo, • Material - Velvet, Duck Feather Padding, • Size (W x H x D) 41 x 36 x 10cm
Special Care
When dirty or dusty, please tend to your furniture using a clean, damp cloth before leaving it to dry. If any substantial moisture remains after cleaning it, please wipe the surface dry to avoid any staining.