Turbo Charged Beauty – 911 930 Turbo Canvas Print - Car Poster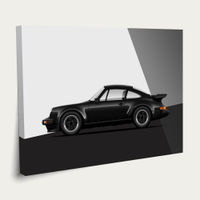 Turbo Charged Beauty – 911 930 Turbo Canvas Print - Car Poster
Shipping & returns 
Description
Kick your passion for automobiles into overdrive with Rear View Prints, the British printing brand merging cars and art. Each piece is printed using high quality fine art printing methods, and commemorates vintage and modern iconic cars. The Canvas Print – Car Poster is colourful and cool, an ode to the cars it commemorates. Hang this canvas high in your office, or gift it to a car-loving friend.
Story
A group of car enthusiasts put Rear View Prints into first gear, and since then this British print company hasn't looked back. Their pieces represent the intersection between car and art culture, and their handcrafted automotive themed prints and patterns can be ordered in frames as well as on sweatshirts. They take production as seriously as they take their love for rally cars, making every individually created piece high quality.
Features
• Material – Hahnemühle Art Canvas 370gsm, • Finish – Matte
Special Care
• Please do not hang me on a wall facing the sun directly. My colours may fade, as can happen with fine art.
More from Rear View Prints