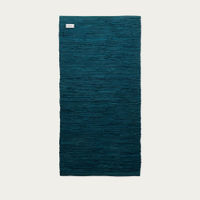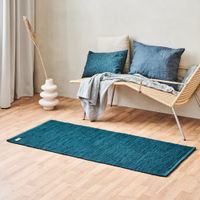 Petroleum Cotton Rug
Shipping & returns 
Description
Do the planet a solid by shopping Rug Solid. Each collection is totally sustainable, using recycled and upcycled materials that feel as good as they look – in both senses of the word. The Cotton Rug rethinks the traditional. It's made using an innovative approach, taking recycled cotton cut offs and turning them into a soft, modern rug that's more sustainable. It's got a traditional flat weave construction and has been handwoven in a contemporary style, perfect for modern, playful homes.
Story
Rug Solid wants you to step into a sustainable future – producing a new era of environmentally considered furnishings in innovative materials. Founded in 2012 by Tina Steneman, Rug Solid's rugs are sustainable end-to-end, in every part of production – from printing on recycled paper, to using CO2 neutral shipping methods to deliver rugs made from recycled or upcycled materials. But sustainable doesn't mean saving on style – each design is bold and beautiful, with the added feel-good factor that comes from supporting the environment.
Features
• Traditional Flat weave, Hand-Woven, • 95% Recycled Cotton Off-Cuts Originating From The International Fashion Industry, 5% Recycled Cotton String, • Weight: 2000 G/M2, • Height: 11 Mm, • Made In India
Special Care
Daily cleaning may be done with regular vacuuming or by beating the rug. If the rug is stained it can tolerate machine wash at 30 degrees celsius. Stretch the rug and let it dry on a flat surface.