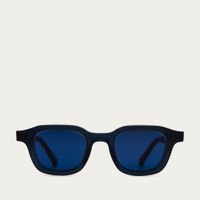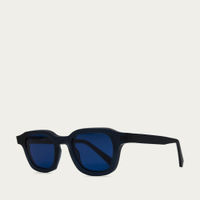 Japan Blue Test Nº2 Eyewear
Sizing
Measurements 48-20-145 mm
Shipping & returns 
Description
Great for any occasion, Sample Eyewear's sunglasses have a strikingly modern look, despite being made the traditional way – handcrafted in small batches in Madrid. Test Nº2 Eyewear is a pair of square frame sunglasses in biodegradable, plant-based acetate. Each frame is crafted by hand, using their signature 'Unprocessed' method – it's this artisan process that means each pair might vary slightly in its finish. Each one comes with a technical drawing of the 'test' idea, including material codes that signify its authenticity. And as well as enhancing your style with their chunky, modern look, they also give 100% UVA/UVB protection.
Story
Sample Eyewear's modern pieces are made traditionally, designed and handcrafted in Madrid. Yet despite a local approach to production, their shapes and styles are borderless – made for any season, any country and every person. The founders' shared experiences contribute to the eyewear brand's vision – celebrating the best of global design, while using the best craftspeople and materials available locally. And each pair's made using biodegradable, plant-based acetate – echoing their values of sustainability and quality.
Features
• Materials 100% Handcrafted with Plant Based Mazzuchelli Acetate, • Custom to Sample CR39 Organic Sunlens, Providing 100% UVA/UVB Protection, • Stainless Steel, Nickel Free Gomotec Hinge with Teflon Safety Screw
Special Care
Please keep inside a protective case to maintain longevity.