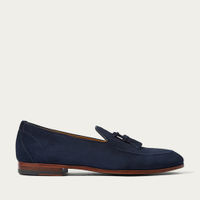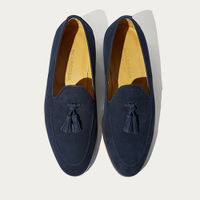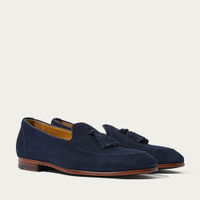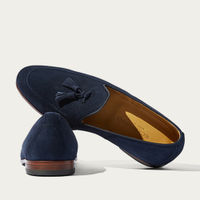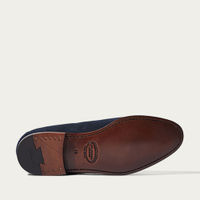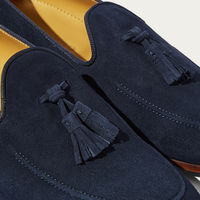 Dark Blue Suede Leather Ettore Abisso Loafers
Shipping & returns 
Description
Scarosso's the king of discerning shoes for discerning men. And handcrafted in Italy using artisanal techniques, each pair's fit for royalty. The finest materials are hand-stitched together, giving these classic silhouettes the durability they need to remain timeless. The Ettore Abisso tassel loafers are handcrafted by skilled artisans in Italy. They've got a distinctive tassel detail, and are made from high quality dark blue suede that's moulded by hand.
Story
Luxury, Italian, leather – it's not a surprising combination. But Scarosso's approach is their distinction, operating a philosophy of affordable quality to make smart shoes for smart men. They carefully select the best Montegranaro shoemakers to craft their brogues and loafers – the same artisans who produce high-end designer shoes. But their ethical approach of cutting out the middleman means they can bring quality to every man, without the price tag.
Features
• Handcrafted tassel loafer on an Italian shoe last with blake method • Dark blue suede leather • Lining in natural-coloured calfskin • Leather sole with rotellato detail and a full leather heel (Height: 2.7cm)
Special Care
• In case of light stains or dirt, wipe with a clean, damp cloth and allow to dry. For stubborn stains on suede leather, use a suede brush. • Avoid prolonged exposure to water to preserve the piece's longevity and appearance.